2021-2022 Preliminary Budget Consultation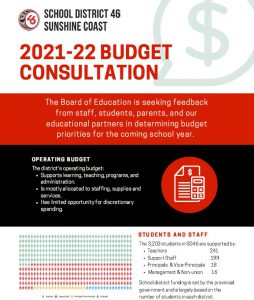 The Board of Education of School District No. 46 continues to consult with staff, students, parents, and our educational partners in determining budget priorities for the coming school year. If you would like to share your feedback, please review the following information and get in touch.
Budget feedback can be sent by email to questions@sd46.bc.ca or by mail to PO Box 220, Gibsons, BC V0N 1V0. 
The feedback will be shared at the Operations Committee scheduled for February 23, 2021 and the final budget will be presented to the board at their Regular Meeting scheduled for May 12, 2021.  For more information on board meetings, please visit the Board Meeting Schedule. 
Additional financial reports are available upon request and from the following sites: