Board of Education & Governance
School District 46 is governed by a seven member Board of School Trustees elected by the public every four years. The Board sets policies and directions for the operation of the district and its schools. As a result of the October 2018 municipal election, six new trustees joined one returning trustee to form the Board of Education of School District 46 – Sunshine Coast.
The new Board was sworn in at a ceremony on Tuesday, November 6, 2018 at the School Board Office and trustees will remain in office until October 2022.
The general public and parents are encouraged to attend regular school board meetings held at the School Board Office located at 494 South Fletcher Road in Gibsons. The board's meeting schedule, include agenda packages and minutes of previous meetings, can be found here.
At the inaugural meeting of the board, trustees elected Pammila Ruth as Board Chair and Stacia Leech as Vice-Chair. Trustee Amanda Amaral was elected BCPSEA Representative and Trustee Maria Hampvent was elected BCSTA Provincial Council Representative.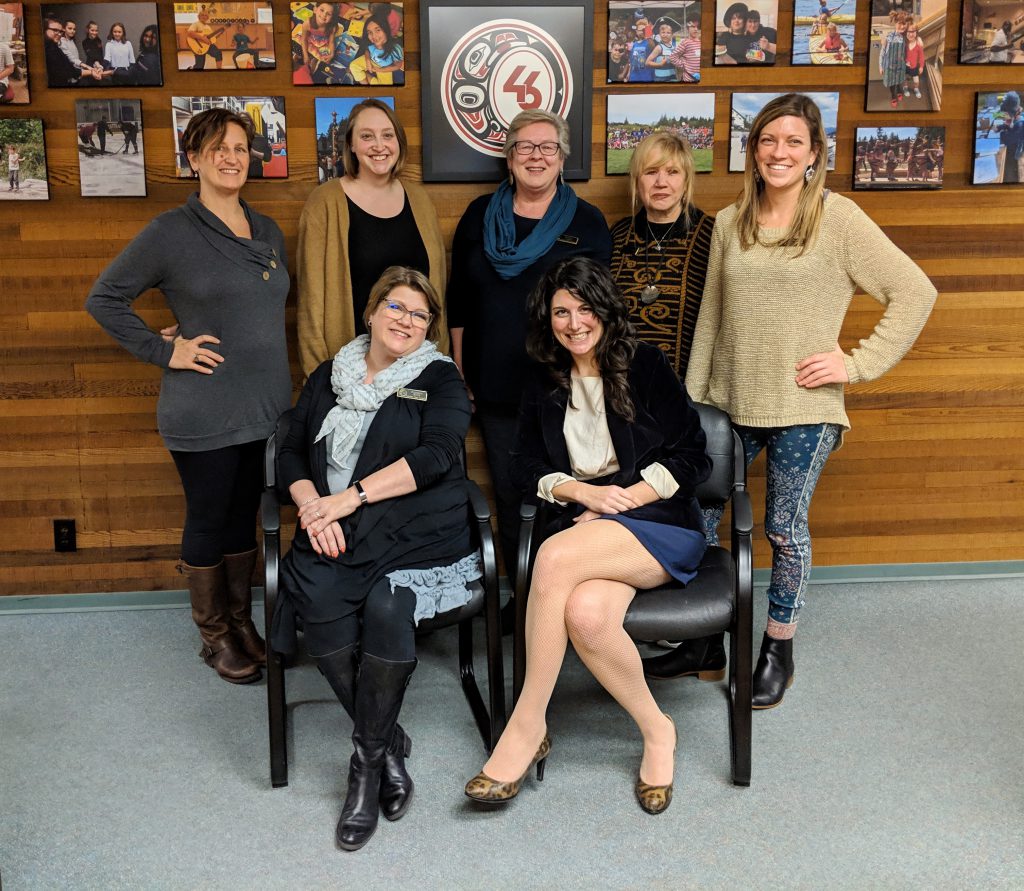 The Board of Education of School District 46 (Sunshine Coast) is comprised of (L-R) Trustees Maria Hampvent, Samantha Haines, Pammila Ruth (Chair), Stacia Leech (Vice-Chair), Amanda Amaral, Sue Girard and Tonya Ste. Marie).
JESSICA CARROLL – Student Trustee (2019-2020)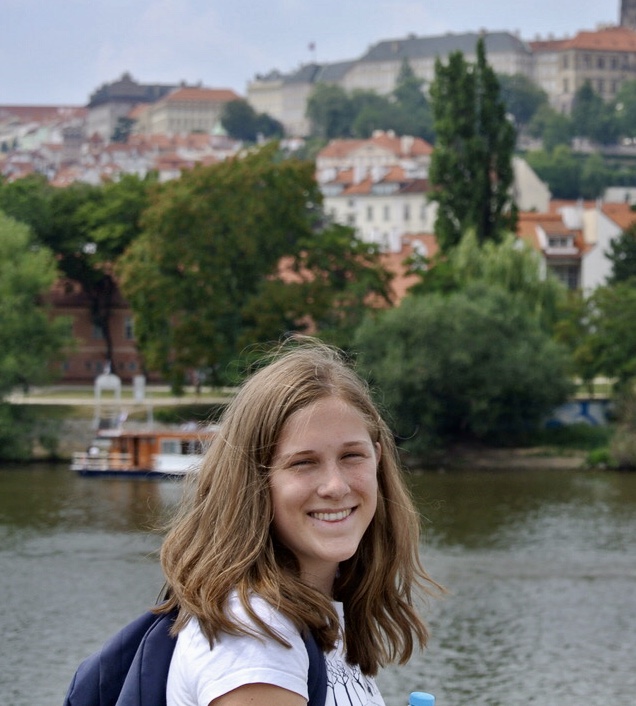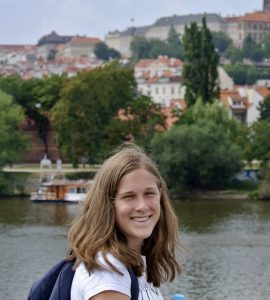 Jessica Carroll is currently in grade 12 at Elphinstone Secondary in Gibsons, BC. Jessica was elected as student trustee by the District Student Leadership Team to represent the voice of students from SD46 during the 2019-2020 school year. Jessica attended Roberts Creek Elementary School and has been an involved member in the school community for many years. Sports such as ice hockey, mountain biking and Ultimate Frisbee are among Jessica's extra-curricular activities along with piano and choir.
PAMMILA RUTH (Chair) – Representing Area 3 (Lower Coast)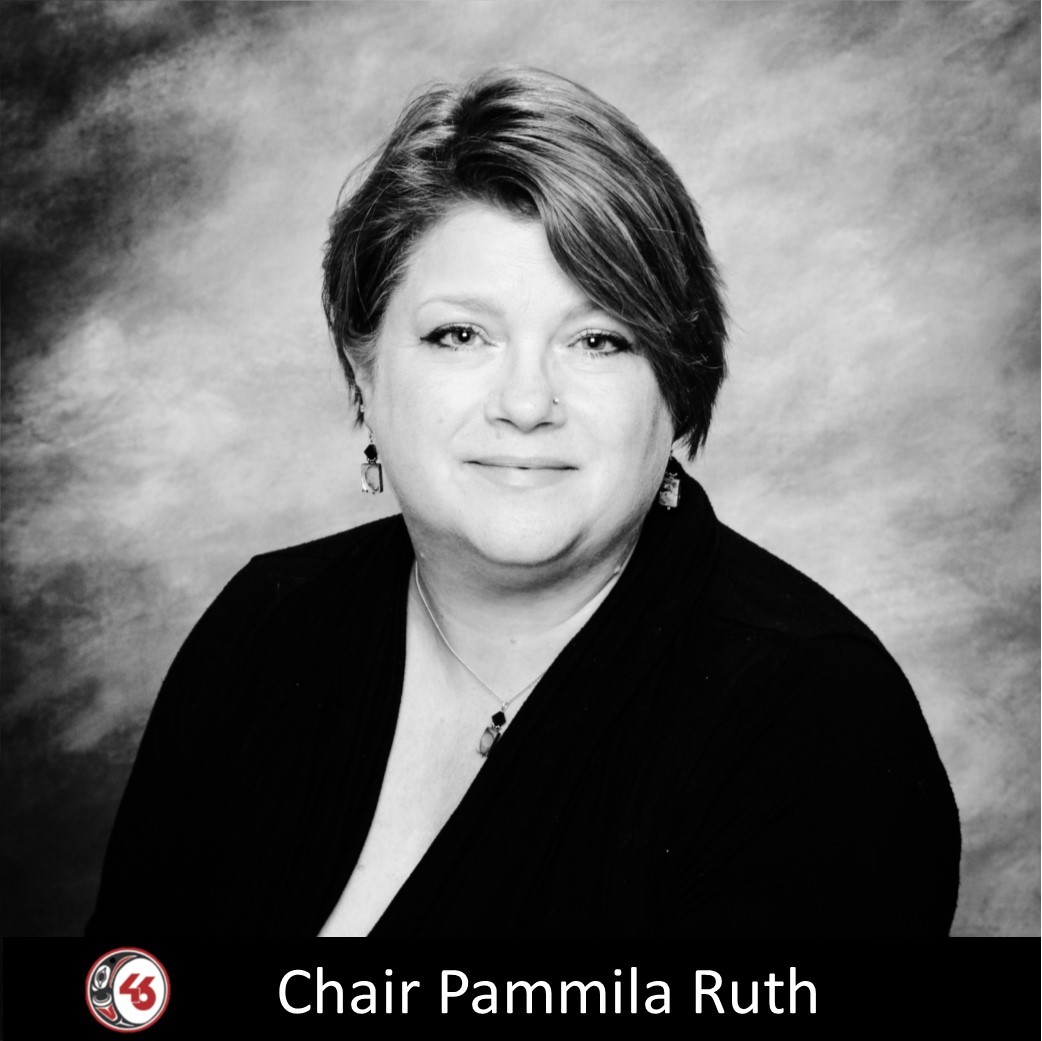 Trustee Ruth has lived on the Sunshine Coast since 1991, raising her two sons with her husband here in Gibsons. Her eldest son is currently going to University of Victoria studying to become a teacher and her youngest is completing his final year at Elphinstone Senior Secondary.
Before becoming a school trustee, she ran a licensed family daycare for seven years and had been extremely involved in the PAC at her children's schools. She was a PAC executive almost from the get go. She lobbied for computers in the school, crossing guards and for a safer intersection when government funding was drastically cut. She attended meetings regarding the new elementary school despite her youngest moving up to the high school before its completion, in order to make sure that the parent viewpoint and concerns were being met.
She decided to become a school trustee to ensure that parents and students would always have a voice at the district level.
Over the previous term she had the pleasure of working with for student trustees, now five, and has watched them grow as leaders. "How can we govern an organization focused on students if we don't listen to what they have to say?"
Pammila was first elected to the board in 2014 and re-elected in 2018 for a second four year term. Pammila served as Vice-Chair from December 2017 to October 2018 and was elected as Board Chair in November 2018.
STACIA LEECH (Vice-Chair) – Representing Area 3 (Lower Coast)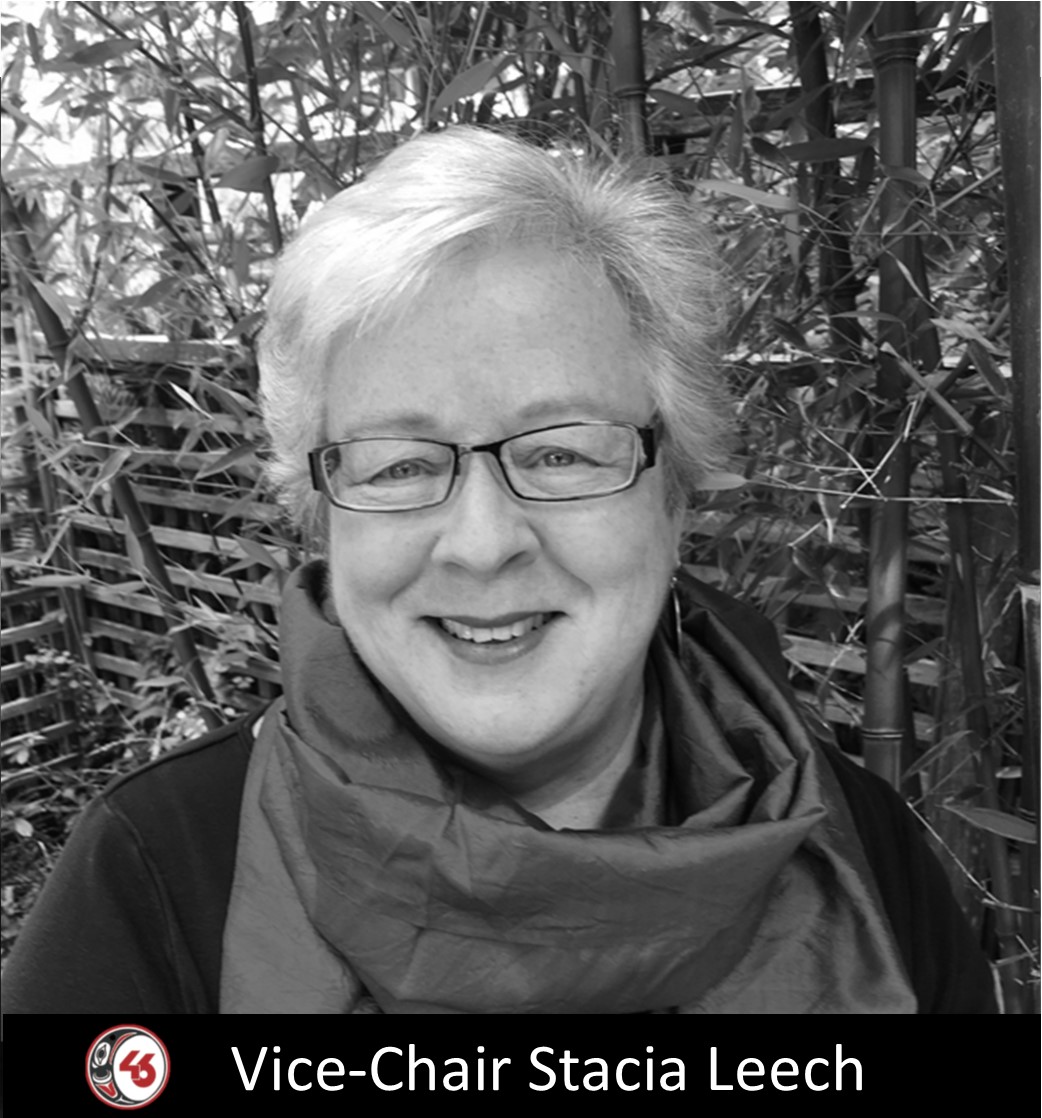 Trustee Leech has lived on the Sunshine Coast since 1980. She recently retired from the Roberts Creek Community School Society where for the past twenty years she was the Executive Director of the Society. For the past twelve years her work was focused on research, development and implementation of school based social and emotional programs.
As the Director of the Health Canada funded 'Mind the Gap' project she was responsible for all aspects of an initiative to deliver and evaluate social emotional interventions in the student, teacher and parent community of School District 46.
She is a certified Facilitator and had the privilege to act as Board Chair for many Sunshine Coast regional committees, initiatives and not for profit societies.
Since retiring from the Roberts Creek Community School Society, she has been working as an independent contractor; teaching eight-week, mindfulness based, stress reduction courses and conducting a province wide survey of student and teacher well-being. "We know that stress costs us all and has an impact on school and family life – surveys and research give us a greater understanding of the stresses inherent in the system? I feel that SD46 is well positioned to contribute to this provincial conversation".
Trustee Leech is a supporter of the environmental literacy initiatives in our schools. And will be encouraging a regional approach to these initiatives.
She has two grandchildren who live in Gibsons; they will be in starting school soon and will joyfully keep her connected to the children and classroom teachers of School District 46.
Trustee Leech was elected as Board Vice Chair in November 2018 and feels privileged to work with Chair Ruth and the other five dedicated trustees.
AMANDA AMARAL – Representing Area 2 (Central Coast)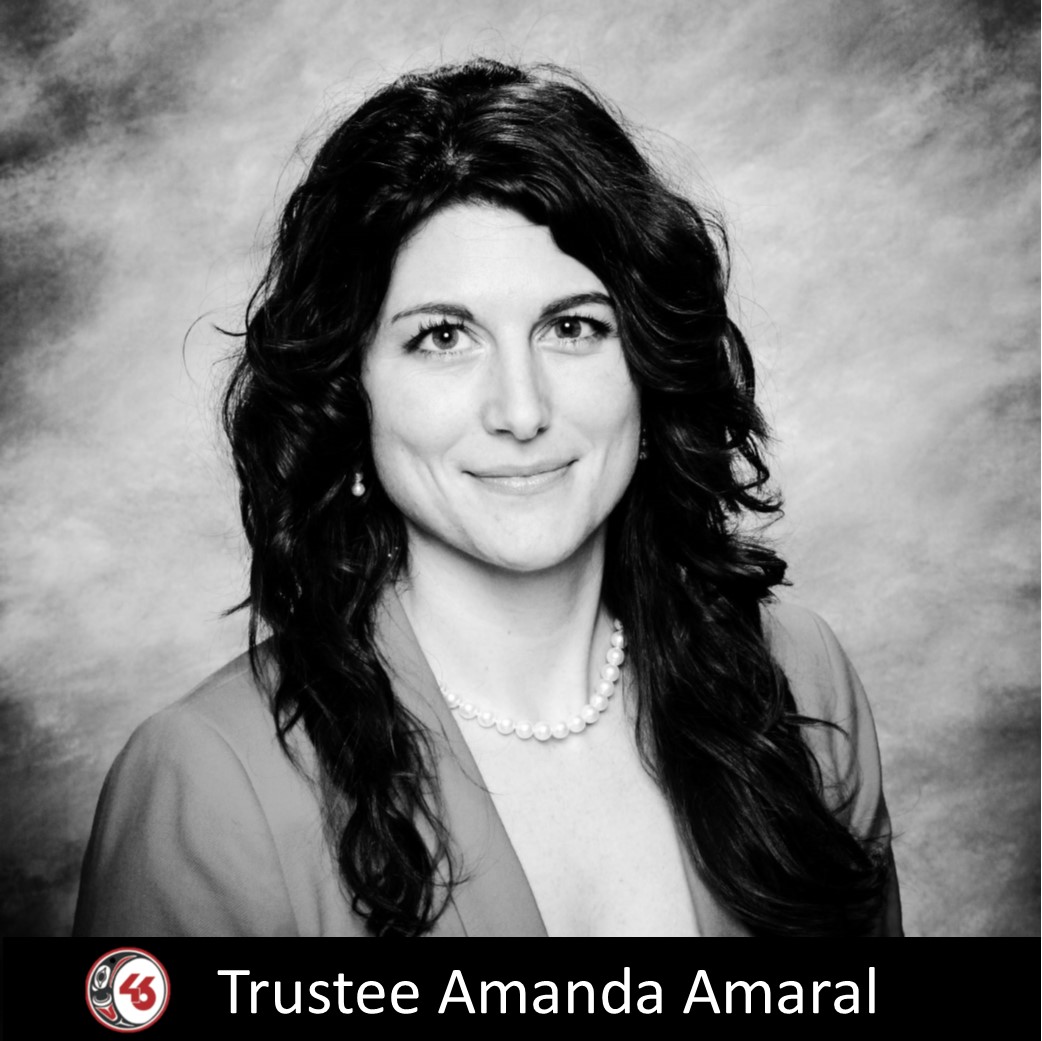 Amanda was born and raised on the Sunshine Coast. She is a proud graduate of the Sunshine Coast Alternative School—Class of 1999.
A social worker by profession with a Master's of Social Work from the University of Calgary and a certificate in public administration from the University of Victoria, Amanda currently works for the Ministry of Children and Family Development as a Team Leader. She has served on various community boards such as the Gibsons Public Market, Arrowhead Clubhouse Society and the Board of Variance for the Town of Gibsons.
Amanda is a parent of two children who attend Davis Bay Elementary's NEST nature education program and is supportive of expanding the school district's commitment to educational and operational initiatives in environmental sustainability.
SUE GIRARD – Representing Area 3 (Lower Coast)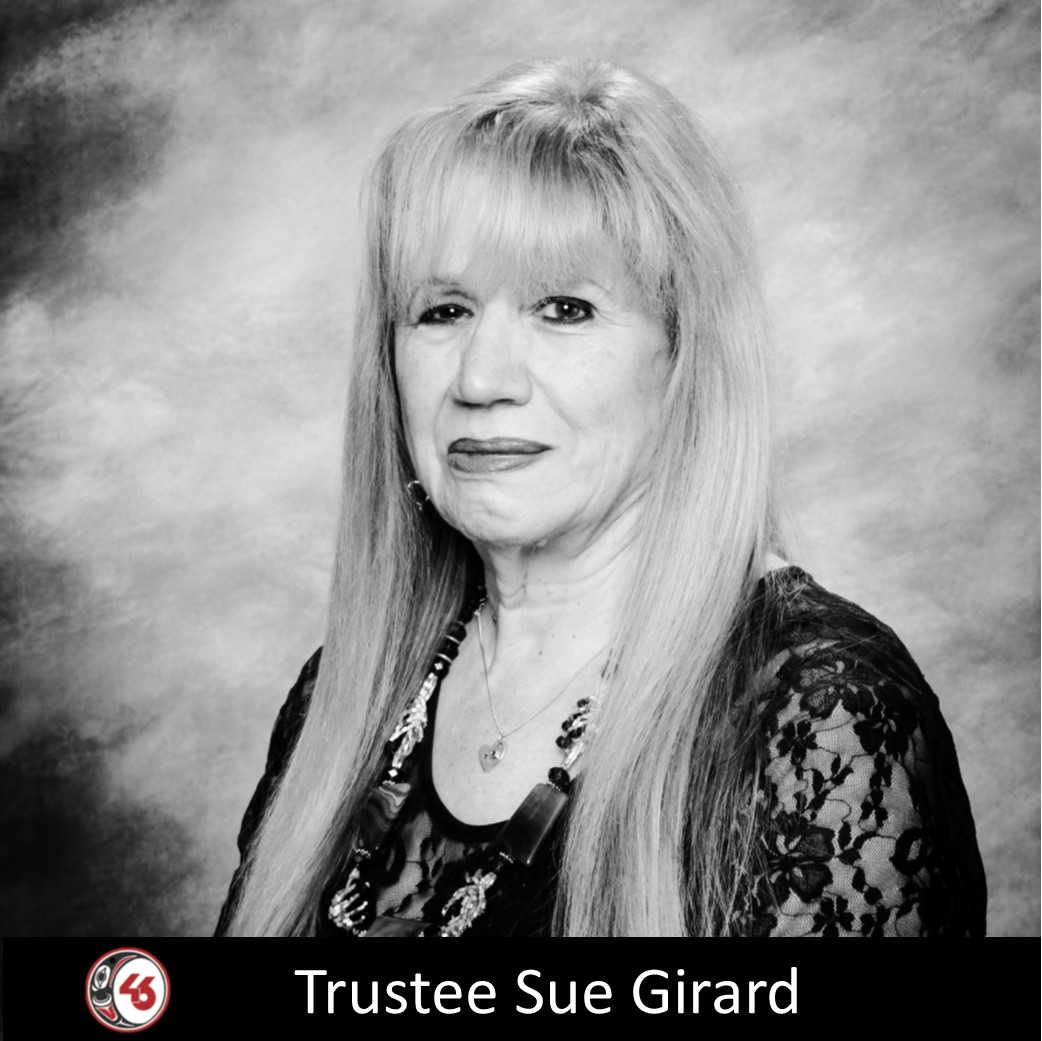 Sue moved to the Sunshine Coast when she was 14 and graduated from Elphinstone Secondary School. She left the coast for a while but returned in the early '80's and raised her 3 children here. Sue took an active role in the early education of her children and was involved in the Jack and Jill Preschool where she spent 4 years as a class representative, vice-president and then president.
Sue studied to be a Special Education Teacher's Assistant (SETA) at night school in School District #46. After which, Sue began work at the Sunshine Coast Association for Community Living where she continued her education while working in the areas of life skills development, supported employment services, and early management.
Sue graduated with Highest Honours in Child Psychology, with a specialty in brief solution focused therapy. Sue studied Addictions and Family Systems at Douglas College, with extensive training in dual and multiple disorders, and became the Executive Director at Sunshine Coast Breakaway Youth and Family Services, where she developed programs for the growing needs of local youth and their families.
Sue taught many workshops, seminars and took part in ongoing classroom education sessions in School District #46. She was an addictions counsellor and educator with the alternative education program for many years. Sue was a founding member and the coordinator of Restorative Justice when it came to the Sunshine Coast in the late '90's and was instrumental in introducing the program at local schools. Sue was the secretary for Community Policing for several years. Gaining a Bachelors Degree in Ministerial and Holistic Counselling at the University of Sedona, she obtained her Master's as an IMM Metaphysician in 2006. Sue is currently an Officiant and Life Passages Celebrant on the Sunshine Coast.
Sue is an international author on Amazon, as well as a Goodreads author. Sue has 3 grown children and 5 grandchildren residing on the Sunshine Coast, with 3 attending local schools. Sue has been involved in many community projects over the years and always offers her services to the people of the Sunshine Coast.
SAMANTHA HAINES – Representing Area 1 (Upper Coast)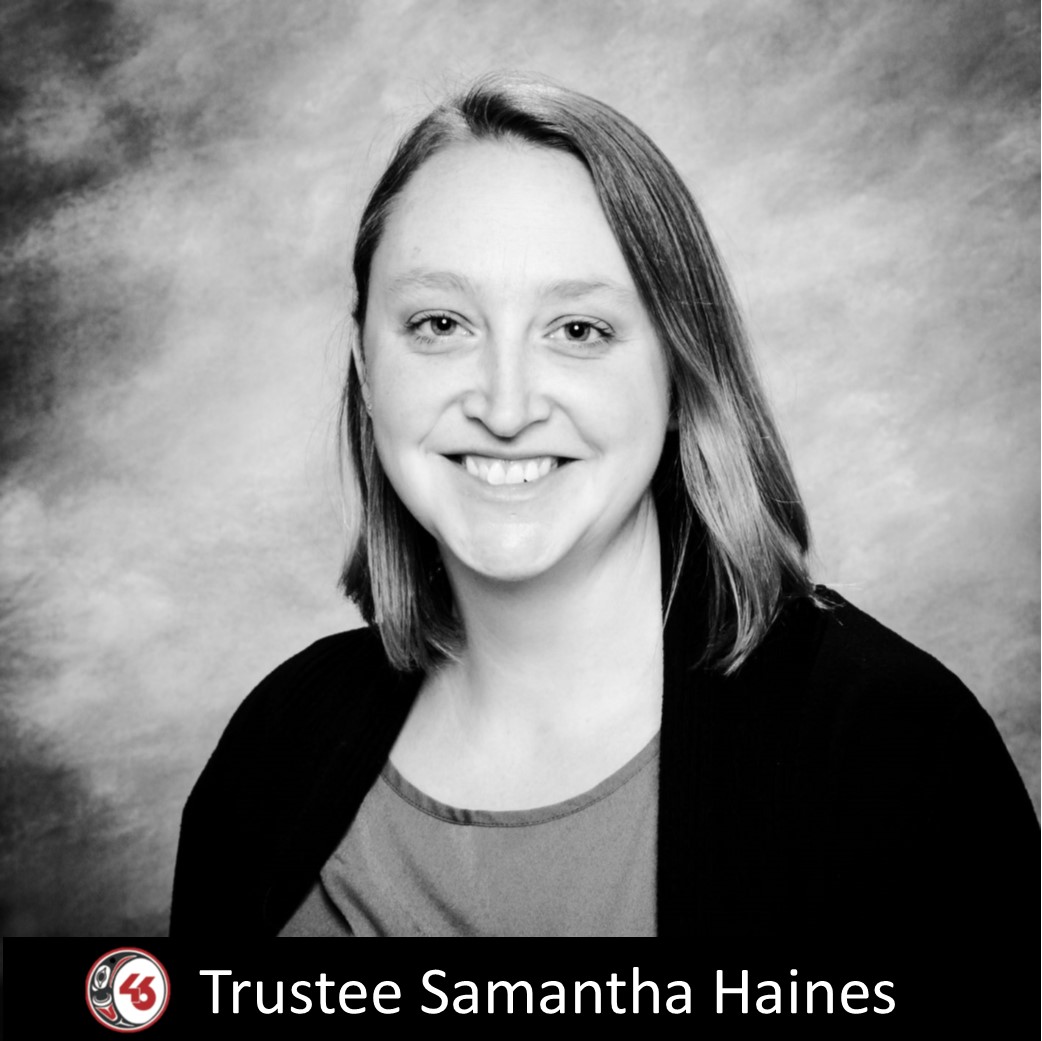 Trustee Haines has lived on the Sunshine Coast since 2006, spending most of her time in Pender Harbour. Together, with her husband, they are raising their 2 young children. Her oldest is in grade 2, and her youngest is 4 years old. She has a background in Veterinary Medicine, and a passion for Photography. She is an active member of the PAC. Her decision to become a trustee was to give the parents and students of Pender Harbour and Halfmoon Bay a voice at the district level.
She is passionate about outdoor education, sustainability, and the arts. "I'm excited to be starting this new chapter in my life, where I can be involved in my children's education, at a level that can have a impact to their success."
MARIA HAMPVENT – Representing Area 2 (Central Coast)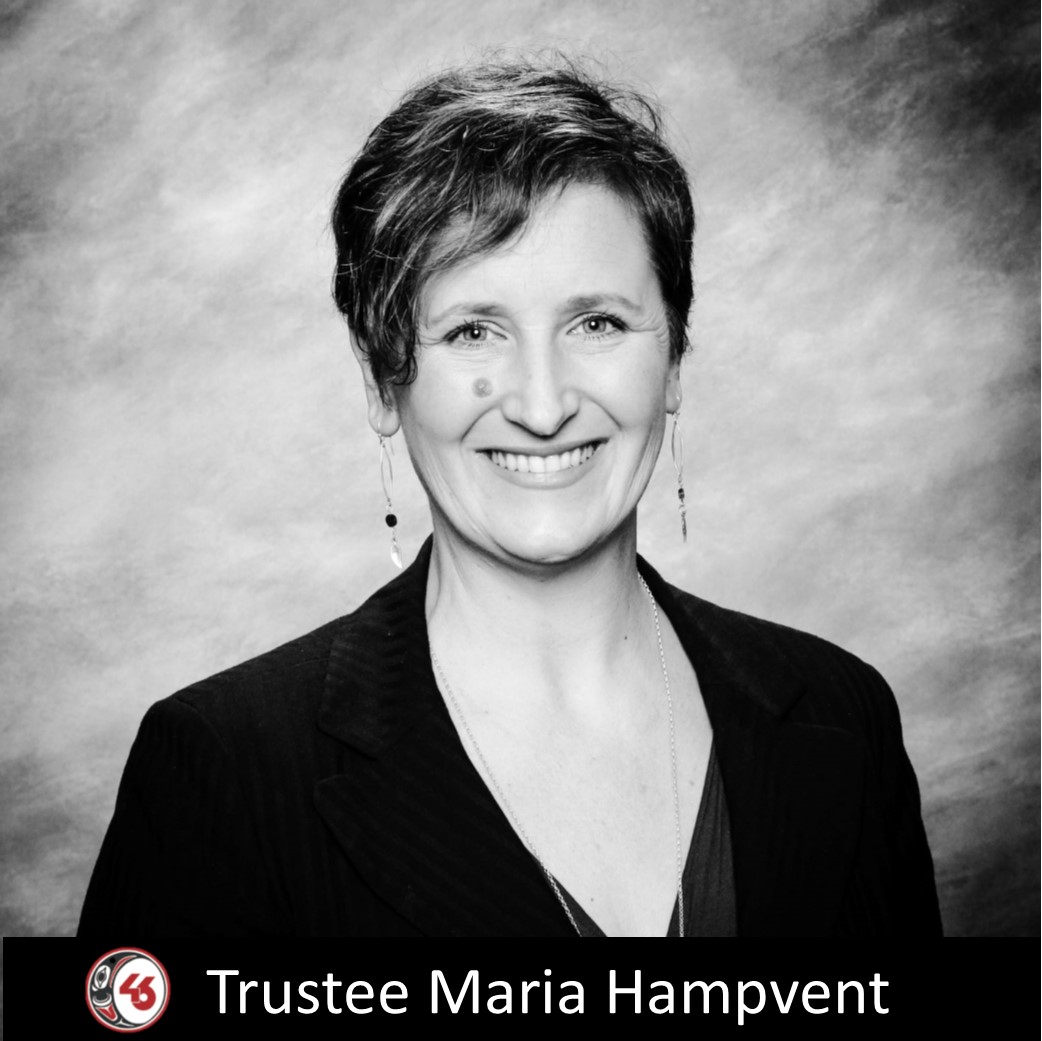 Maria Hampvent graduated Royal Roads University with a Masters degree in June of 2018 with two post-graduate certificate specialties: Values-Based Leadership and Sustainable Community Development. This education coupled with her long local volunteer history which includes: Secretary of the DPAC in 2018, current Vice-Chair of Regional Economic Development, many years of coaching soccer and baseball and President of Student's Council at Chatelech Secondary in 1992 and 1993 have prepared her for the aspiration to be in public service as a Board of Education Trustee. Maria has 4 children ages: 5, 10, 16 and 18.
TONYA STE. MARIE – Representing Area 2 (Central Coast)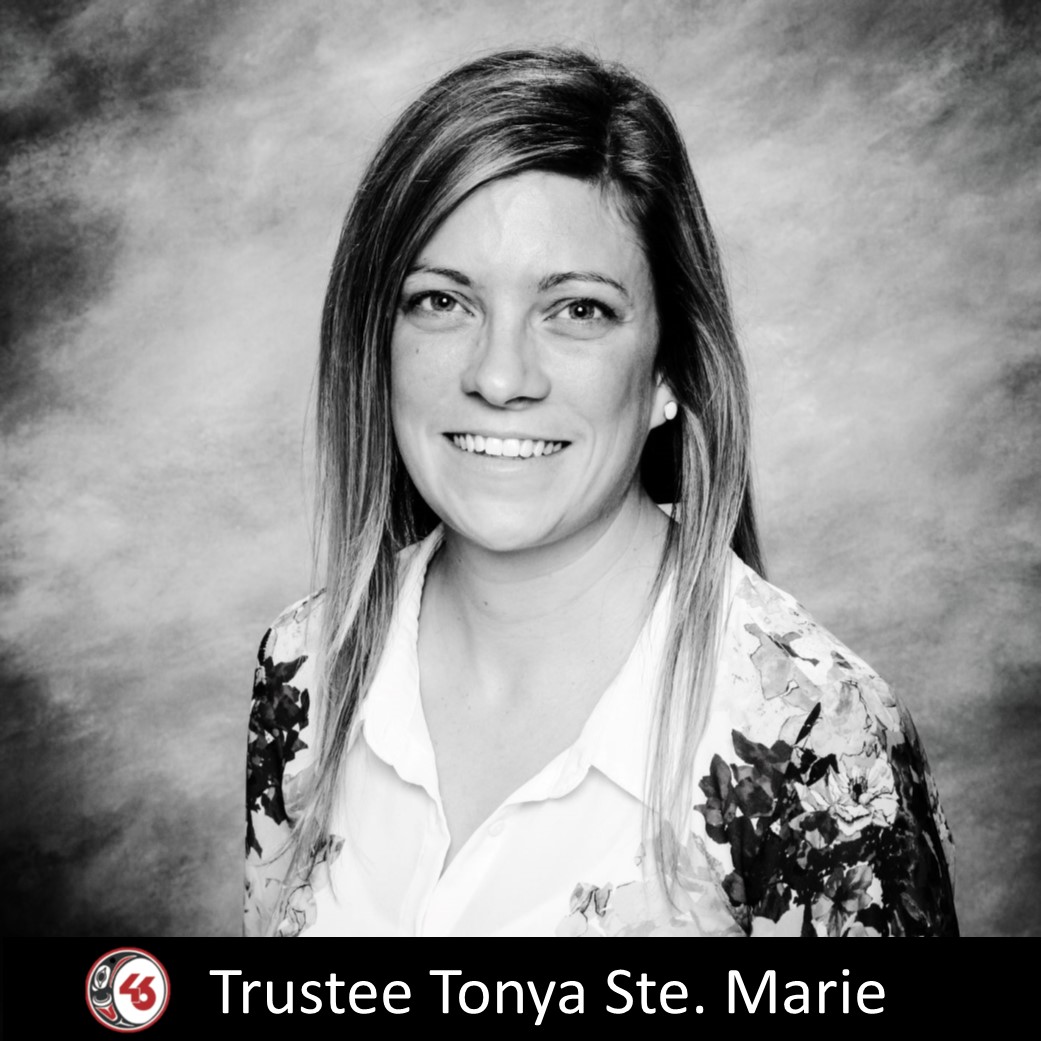 Tonya Ste. Marie grew up in small town Ontario and after falling in love with the Pacific Ocean, moved to the Sunshine Coast full time in 2011.
For over a decade, Tonya has worked with children and youth in various youth programs in Ontario and on the Sunshine Coast, including being the Lead of Youth Services at Sunshine Coast Community Services. Tonya worked with vulnerable and at risk youth preparing them to age out of government care, Indigenous youth and families and ran the Youth Outreach program for a number of years. Tonya is currently working towards a Bachelor of Social Work. She has a passion for working with at risk youth and the homeless population and works as a casual support worker for RainCity Housing.
Tonya's passions outside of working with children and youth are rooted in the marine world. An avid local and offshore sailor and racer, she can often be found on the water. She most recently accepted a position with Transport Canada, working for the National Aerial Surveillance Program, watching ships in Canadian waters to help prevent pollution. Tonya is also a Coxswain and the Training Officer for Royal Canadian Marine Search and Rescue, Station 12 – a volunteer organization dedicated to saving lives on the water.
As a trustee, her goals include expanding alternative education opportunities, encouraging mental health and community dialogue around social issues, increasing graduation rates, promoting solar installations on schools and creating collaboration between the schools and service providers in our community, allowing students to achieve their full potential.