Street Address: 494 South Fletcher Road, Gibsons
Mailing Address: PO Box 220, Gibsons, BC, V0N 1V0
Phone: 604.886.8811
Toll Free: 1.877.886.8811
Superintendent of Schools | Patrick Bocking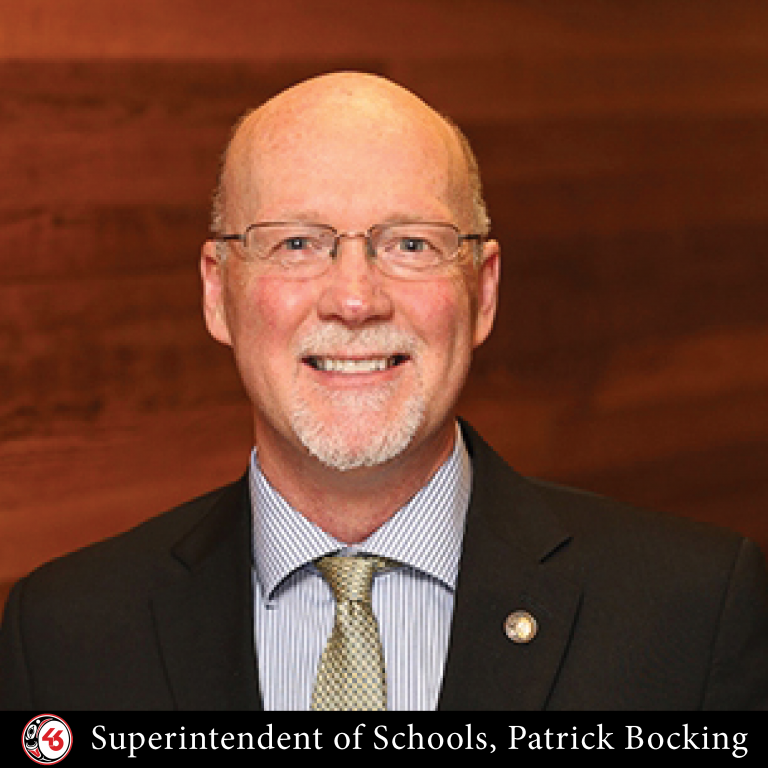 Patrick is the Superintendent and Chief Executive Officer for Sunshine Coast Schools. He is responsible for the educational and administrative leadership of the district under the governance and policy direction of the Board of Education. He is accountable to the Board for all district staff and students, and is further accountable to the Ministry of Education on behalf of the Board.
Patrick has a Bachelor of Science in Geography and Biology, Bachelor of Education with a focus on French and Geography, Master of Education in Educational Administration, and further formal educational leadership training through the Ontario Principal Qualification Program and the Supervisory Officer Qualification Program.
His teaching experience has been as a primary and intermediate Core French and French Immersion teacher. He was a Vice Principal and Principal in elementary schools in Thunder Bay, Ontario, before moving to North Bay, Ontario as Assistant Superintendent. Patrick has been the Superintendent for Sunshine Coast Schools since 2011.
Patrick is thrilled to be in his current role as he works with the dedicated staff who support the diverse learning needs of each of our students. His focus includes having a strong, positive and collaborative culture based on mutual respect and support. Whether we are a 5 year old beginning kindergarten or a member of the staff with many years of experience, we will always be better together.
Patrick and his wife, Elaine, live in the Gibsons area. They enjoy hiking, motorcycle touring, sailing, gardening, kayaking and travel. They are the proud parents of a daughter who is a teacher in Ontario, and of a son who is a wind turbine technician in Alberta.
Secretary-Treasurer | Nic Weswick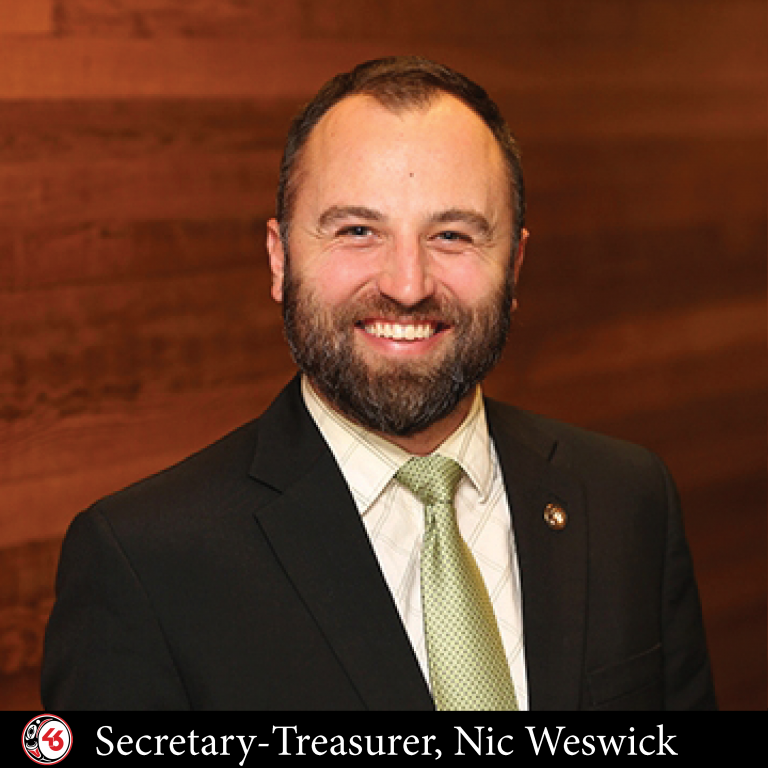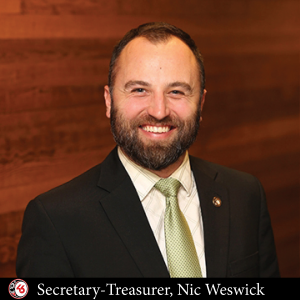 Nic is the Secretary Treasurer for Sunshine Coast Schools. He is responsible for the efficient and effective finance, facilities and transportation operations in the district. Further, he supports the Human Resources Department in legal and financial matters. He is the key resource to the Board of Education for policy and governance matters.
Nic has a Bachelor's Degree in Business Administration (with honours) from Vancouver Island University. He is a Certified General Accountant and Chartered Professional Accountant in good standing in the province of British Columbia.
Nic has worked in the school districts for over a decade, beginning with the Controller position and then the Assistant Secretary Treasurer with the Peace River North School District. Nic has been the Secretary Treasurer with Sunshine Coast Schools since 2011.
Nic believes that an efficient and effective business operation is critical for our students to have the best possible educational experience and opportunities. He believes that public education is one of the pillars of a liberal democracy, and finds great value in supporting the system here in BC.
Nic lives in Davis Bay with his wife Gwyntie, and their cat, Lulu. They enjoy the outdoors and the lifestyle of the Sunshine Coast.
Director of Instruction, Human Resources, Secondary Programs & International Education | Paul Bishop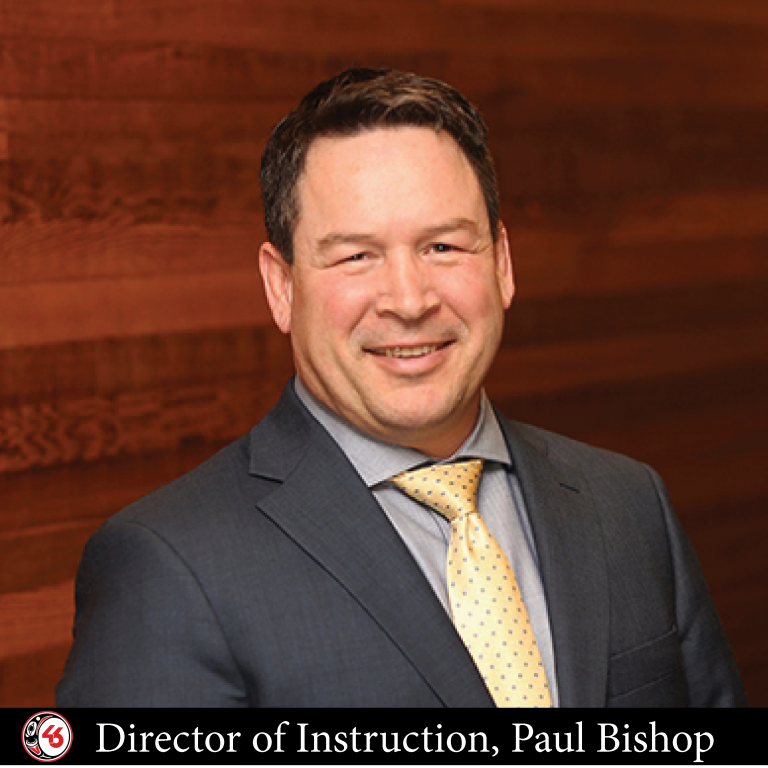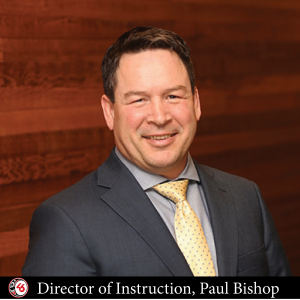 Paul is the Director of Human Resources and Secondary School Programs for Sunshine Coast Schools. He is responsible for supporting school programming at the Secondary level, including District Careers and the International Education program. He is also lead for District Health and Safety and the Human Resources department.
Paul has a Bachelor of International Development Studies from Dalhousie University in Halifax, a Master of Education in Curriculum and Instruction from the University of British Columbia and completed his teaching certification as part of the International Teacher Education Module at Simon Fraser University.
Paul's educational career began as an Educational Assistant in the Delta School District. Later he became an intermediate teacher in the Vancouver School Board, prior to moving to the Sunshine Coast. Paul taught at both the elementary and secondary level prior to moving into school leadership in 2007. Paul was a Vice Principal at the Sunshine Coast Alternative School and Elphinstone Secondary and Principal of Pender Harbour Elementary/ Secondary School. Paul has been a Director of Instruction since 2015.
Being able to work and live on the Sunshine Coast for the school district is an honour for Paul. Helping provide multiple pathways for students to achieve a better understanding of themselves and the world around them through our district programming is a privilege.
Paul lives in Halfmoon Bay with his wife and daughter. They enjoy the quiet, the views and the connection to the water and lands available throughout the coast.
Director of Instruction for Inclusive Education, Inclusion Support Services | Kate Kerr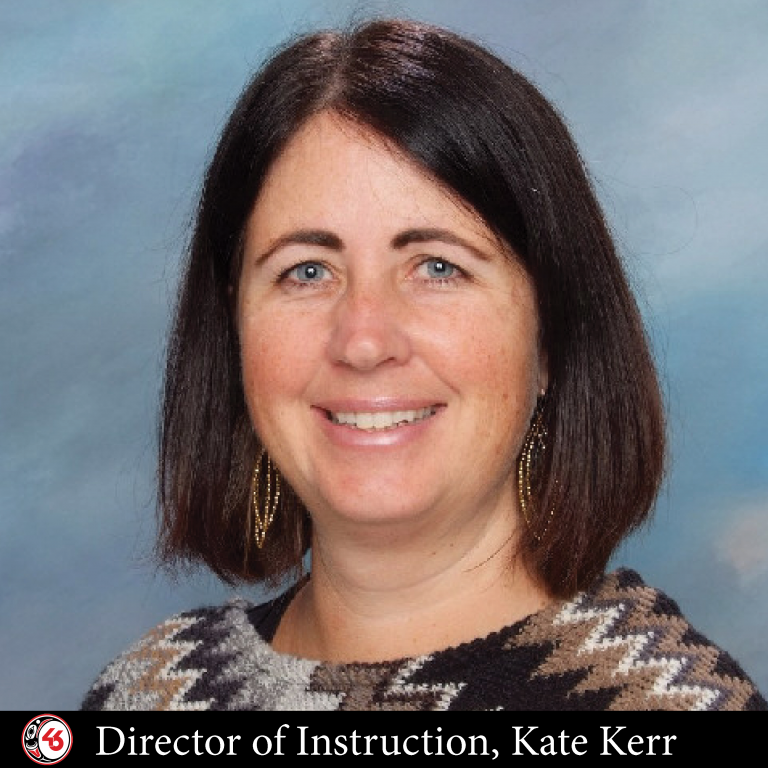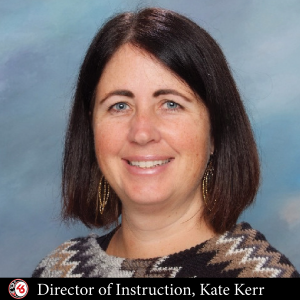 Kate is the Director of Instruction for Inclusive Education, Inclusion Support Services, for Sunshine Coast Schools. She is responsible for leading and supporting our students' well-being in many ways including counselling services, inclusive education strategies, mental and physical health. Kate works with District Inclusion Support staff, school and district leaders and community partners to ensure that each of our students is thriving throughout their school years.
Kate has a Bachelor of Arts in English Literature (UBC), a Bachelor of Education with a focus on English Language Arts and English Language Learning (UBC), and a Masters in Curriculum and Leadership (UBC).
Kate has been a teacher and leader in both elementary and secondary schools. She joined the Sunshine Coast School District as a Student Support Services teacher at Elphinstone Secondary School. She has held leadership roles in inclusive education, instructional leadership, and curriculum implementation. She has been the Vice Principal at Elphinstone Secondary, the Principal of West Sechelt Elementary, and the Principal of Chatelech Secondary School.
Kate's passion and experience is in the fields of inclusive education, instructional leadership, curriculum implementation, social/emotional learning, community partnerships, collaboration and innovation to support staff and students in having continued success in their learning journeys.
Kate lives in Roberts Creek with her husband Glenn and two wonderful children. The Sunshine Coast is the perfect place to be part of a close-knit community and pursue their love of the outdoors.