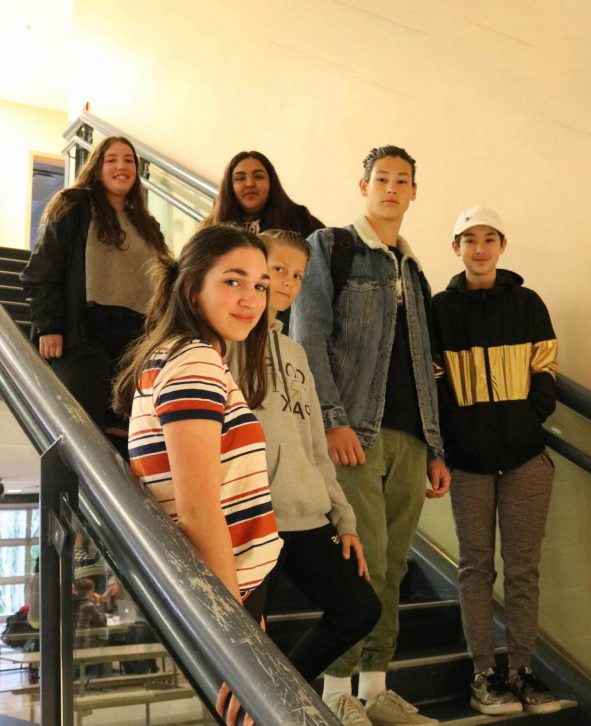 We are honoured to live, learn, play and work on the unceded territories of the Skwxwú7mesh Nation and the shíshálh Nation.
Vision: We are a community engaged in lifelong learning and educational excellence.

Mission: We support and inspire each student to experience joy and fulfillment in realizing their potential as a knowledgeable, confident, and contributing citizen in the global community.
Affirmation: The Board of School District 46 affirms its commitment to Indigenous Peoples and Reconciliation by building relationships and deepening understanding of Indigenous history, worldviews, and ways of knowing.

Approximately 3,300 students are enrolled in nine elementary and four secondary schools and supported by 600 dedicated staff.
The Sunshine Coast of British Columbia is located 30 kilometres northwest of Vancouver and stretches 96 kilometres along the picturesque shores of Georgia Strait. Reached by a 40-minute ferry ride across Howe Sound from Horseshoe Bay, the Coast offers a wide range of recreational and educational activities for students and their families.
Agenda

Month

Week

Day

Grid

Box Grid

Map
Agenda

Month

Week

Day

Grid

Box Grid

Map
-

-

-

-

-

-

-

-

-

-

-

-

-

-

-

-

-

-

-

-

-
-

-

-

-

-

-

-

-

-

-

-

-

-

-

-

-

-

-

-

-

-
You have no events for this day
You have no events for this month
You have no events for this month
stec_replace_image
stec_replace_icon
stec_replace_summary
stec_replace_desc_short
Expired
In Progress
stec_replace_location
stec_replace_timespan
Invited
stec_replace_guest_name
stec_replace_product_name
stec_replace_location
stec_replace_date
RSVP to Event
Event Info

Location

Schedule

Guests

Attendance

Forecast

Comments
stec_replace_description
stec_replace_title

Organizer of stec_replace_event

stec_replace_about
0

days

0

hours

0

minutes

0

seconds
Event expired
Event is in progress
Location
stec_replace_location
Get Directions
Could not find route!
Details
stec_replace_details
No schedule
stec_replace_date stec_replace_time
You are invited to this event!
Places left: 0
stec_replace_name
Weather data is currently not available for this location
Weather Report
Today stec_replace_today_date
stec_replace_current_summary_text
stec_replace_current_temp °stec_replace_current_temp_units
Wind stec_replace_current_wind stec_replace_current_wind_units stec_replace_current_wind_direction
Humidity stec_replace_current_humidity %
Feels like stec_replace_current_feels_like °stec_replace_current_temp_units
Forecast
stec_replace_date
stec_replace_icon_div
stec_replace_min / stec_replace_max °stec_replace_temp_units
stec_replace_5days
Powered by Forecast.io
Student Registration for the 2020-2021 School Year
SD46 Student Registration is a 2 step process:
Complete the Online Student Registration Form.
Take supporting original documentation to your catchment school after August 31st. 
* Remember to first inform your current district/school of your transfer to our district. 
**Please register at your 'Catchment Area School'.  Use the School Finder to find what school serves your address.
***If you wish to attend a different school, please visit the cross boundary application page for more information and/ or contact your 'Catchment Area School' principal for guidance.
Kindergarten Registration:
School District 46 invites parents of children entering Kindergarten in September 2020 to register their children at the elementary school serving their area.
The following original documents must be supplied at the school office before registration can be completed: (Please contact the school after August 31st  for directions on the safest way to do this.)
Proof of age for students new to the B.C. school system (Provincial Birth Certificate, Immigration Papers, Passport or Notarized Proof of Age)
Proofs of address (Primary Proof: Mortgage Statement, Municipal Tax Bill, or Rental Agreement. Secondary Proof: Driver's License, Recent Utility Bill, or Recent Credit Card Invoice)
Kindergarten students must be five years of age on or before December 31st, 2020.
Begin the process now by registering online here!
Summer StrongStart Tales & Trails
Story Walks! Circle Time! Friends! Fun!
Children five and under are welcome to attend with their parent or caregiver! Check out all the details here.
Digital Learning Resources
The Indigenous Learning Team has been keeping the fire. Amid Zoom SBT and staff meetings, supporting students and families by phone and in driveways, and helping out with the continuity of learning, they recently launched a web based "Basket of Professional Development and Learning Resources" for colleagues. Check it out!
Sunshine Coast Family of Community Schools​
Sunshine Coast Community Schools are committed to supporting and improving student learning and to strengthening individuals, families, and vibrant, healthy communities by providing quality programs, lifelong learning opportunities, and connections to school and community resources.
The Community Schools secure grants and external funding to provide valuable programs, services and activities in and out of school time to address nutritional, physical, social and emotional well-being.  Community Schools enhance the work of both School District 46 and our communities by offering site-specific community-based programs as well as regional programs that benefit the entire Sunshine Coast.
Sunshine Coast Youth Health Clinics
Sunshine Coast Youth Health Clinics are open! Now offering services to youth from ages 13-24 years.
Gibsons Health Unit
821 Gibsons Way
Gibsons V0N 1V8
Phone: 604-984-5070
Mondays 3:00-5:30 pm
Sechelt Public Health Unit
5571 Inlet Avenue
Sechelt V0N 3A0
Phone: 604-885-5164
Wednesdays 3:00-5:00 pm
Pender Harbour Health Center
5066 Francis Peninsula Road
Pender Harbour V0N 2H0
Phone: 604-883-2764
Tuesdays 3:00-5:00 pm
Introducing Foundry's Virtual Services!
Foundry is working to make sure all young people in British Columbia can get the care and support they need, when they need it. They are now offering virtual drop-in counselling sessions by voice, video and chat to young people ages 12-24 and their caregivers!
Foundry's virtual service offerings will expand over the weeks and months ahead to include primary care and peer support.