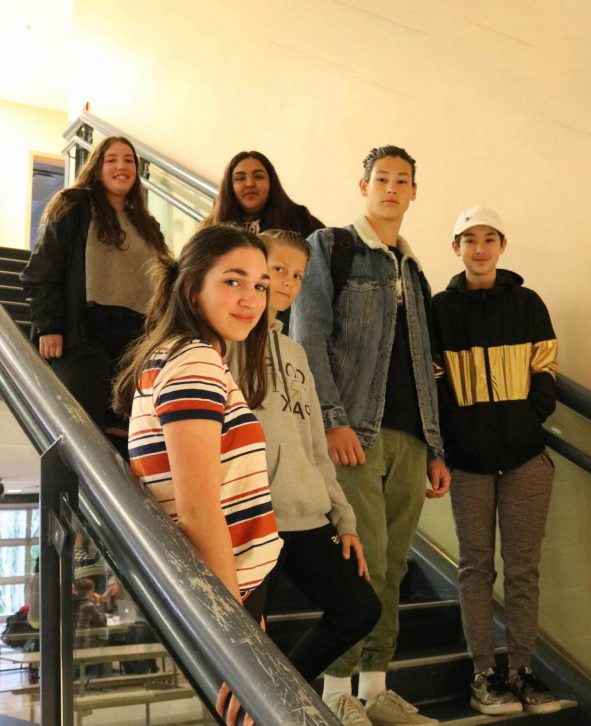 We are honoured to live, learn, play and work on the unceded territories of the Skwxwú7mesh Úxwumixw and the shíshálh Nation.
Vision: We are a community engaged in lifelong learning and educational excellence.

Mission: We support and inspire each student to experience joy and fulfillment in realizing their potential as a knowledgeable, confident, and contributing citizen in the global community.
Affirmation: The Board of School District 46 affirms its commitment to Indigenous Peoples and Reconciliation by building relationships and deepening understanding of Indigenous history, worldviews, and ways of knowing.

The Sunshine Coast of British Columbia is located 30 kilometres northwest of Vancouver and stretches 96 kilometres along the picturesque shores of the Salish Sea. Reached by a 40-minute ferry ride across Howe Sound from Horseshoe Bay, the Coast offers a wide range of recreational and educational opportunities for students and their families.
The district provides public education to over 3,200 students supported by 600 dedicated staff in the beautiful coastal communities of the Sunshine Coast, from Earls Cove to Port Mellon, including Langdale, Gibsons, Roberts Creek, Davis Bay, Sechelt, West Sechelt, Halfmoon Bay, Madeira Park, Pender Harbour and Egmont.  SD46 is dedicated to creating a safe, caring and healthy learning and working environment that is inclusive of the diversity of our entire learning community. The district is focused through its strategic plan on providing meaningful learning opportunities for all students and staff and in partnership with families, First Nations, community agencies, and associations. 
SD46 has nine elementary schools, four secondary schools, and a wide range of innovative programs including prenatal and early education supports, a K-7 nature based learning program, alternative education, distance learning programs, and Indigenous learning and support programs. A wide variety of extra-curricular activities complete the comprehensive student experience. To learn more about SD46's commitment to enhancing student learning, please click here.
Agenda

Month

Week

Day

Grid

Box Grid

Map
Agenda

Month

Week

Day

Grid

Box Grid

Map
-

-

-

-

-

-

-

-

-

-

-

-

-

-

-

-

-

-

-

-

-
-

-

-

-

-

-

-

-

-

-

-

-

-

-

-

-

-

-

-

-

-
You have no events for this day
You have no events for this month
You have no events for this month
stec_replace_image
stec_replace_icon
stec_replace_summary
stec_replace_desc_short
Expired
In Progress
stec_replace_location
stec_replace_timespan
Invited
stec_replace_guest_name
stec_replace_product_name
stec_replace_location
stec_replace_date
RSVP to Event
Event Info

Location

Schedule

Guests

Attendance

Forecast

Comments
stec_replace_description
stec_replace_title

Organizer of stec_replace_event

stec_replace_about
0

days

0

hours

0

minutes

0

seconds
Event expired
Event is in progress
Location
stec_replace_location
Get Directions
Could not find route!
Details
stec_replace_details
No schedule
stec_replace_date stec_replace_time
You are invited to this event!
Places left: 0
stec_replace_name
Weather data is currently not available for this location
Weather Report
Today stec_replace_today_date
stec_replace_current_summary_text
stec_replace_current_temp °stec_replace_current_temp_units
Wind stec_replace_current_wind stec_replace_current_wind_units stec_replace_current_wind_direction
Humidity stec_replace_current_humidity %
Feels like stec_replace_current_feels_like °stec_replace_current_temp_units
Forecast
stec_replace_date
stec_replace_icon_div
stec_replace_min / stec_replace_max °stec_replace_temp_units
stec_replace_5days
Powered by Forecast.io
Walking and cycling to school has the double bonus of promoting children's health while reducing carbon emissions at the same time.  For more information visit transporationchoices.ca or contact TraC at coasttrac@gmail.com.
Helpful links to get you started:
Helping to create positive habits and a more healthy and greener community together!
Thank you to all School District 46 – Sunshine Coast staff for an exceptional year during the most challenging of times.Thank you for creating safe and welcoming spaces of learning this year.
The SD46 Board of Education wishes to express our deep gratitude and appreciation for all of you.
teachers & education assistants | school & district support staff principals & vice principals | managers & district leadership
From: Amanda Amaral, Maria Hampvent, Pammila Ruth, Stacia Leech, Sue Girard, Tonya Ste. Marie, & Samantha Haines 
– School District 46 Board of Education –
West Sechelt Elementary is one of only 4 schools in the province piloting a brand-new Ministry of Education program in which Early Childhood Educators (ECE) work alongside Kindergarten Teachers to provide school-age child care in Kindergarten Classrooms.  The 'Seamless Day' is designed to provide an inclusive, high-quality before and after school-age child care program that overlaps with the school day.  This model provides the Kindergarten Teacher with the gift of additional ECE professionals in the classroom all day, and our youngest students are able to access care in the Kindergarten classroom, reducing the number of transitions they experience to new spaces and people. 
Sunshine Coast Family of Community Schools​
Sunshine Coast Community Schools are committed to supporting and improving student learning and to strengthening individuals, families, and vibrant, healthy communities by providing quality programs, lifelong learning opportunities, and connections to school and community resources.
The Community Schools secure grants and external funding to provide valuable programs, services and activities in and out of school time to address nutritional, physical, social and emotional well-being.  Community Schools enhance the work of both School District 46 and our communities by offering site-specific community-based programs as well as regional programs that benefit the entire Sunshine Coast.
A Tribute to the Sunshine Coast
This video created by Dolf Vermeulen Creative, sponsored by Rachel Dempster Real Estate, and narrated by Rita Poulsen, Indigenous Education Teacher at Kinnikinnick Elementary and Chatelech Secondary, expresses beautifully how grateful and honoured we are to live, learn, play and work on the unceded territories of the Skwxwú7mesh Nation and the shíshálh Nation.