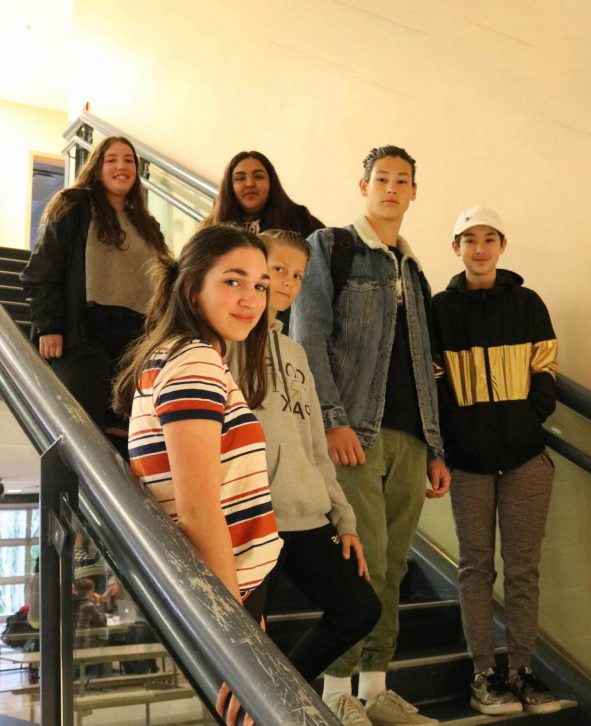 We are honoured to live, learn, play and work on the unceded territories of the Skwxwú7mesh Nation and the shíshálh Nation.
Vision: We are a community engaged in lifelong learning and educational excellence.

Mission: We support and inspire each student to experience joy and fulfillment in realizing their potential as a knowledgeable, confident, and contributing citizen in the global community.
Affirmation: The Board of School District 46 affirms its commitment to Indigenous Peoples and Reconciliation by building relationships and deepening understanding of Indigenous history, worldviews, and ways of knowing.

Approximately 3,300 students are enrolled in nine elementary and four secondary schools and supported by 600 dedicated staff.
The Sunshine Coast of British Columbia is located 30 kilometres northwest of Vancouver and stretches 96 kilometres along the picturesque shores of Georgia Strait. Reached by a 40-minute ferry ride across Howe Sound from Horseshoe Bay, the Coast offers a wide range of recreational and educational activities for students and their families.
Agenda

Month

Week

Day

Grid

Box Grid

Map
Agenda

Month

Week

Day

Grid

Box Grid

Map
-

-

-

-

-

-

-

-

-

-

-

-

-

-

-

-

-

-

-

-

-
-

-

-

-

-

-

-

-

-

-

-

-

-

-

-

-

-

-

-

-

-
You have no events for this day
You have no events for this month
You have no events for this month
stec_replace_image
stec_replace_icon
stec_replace_summary
stec_replace_desc_short
Expired
In Progress
stec_replace_location
stec_replace_timespan
Invited
stec_replace_guest_name
stec_replace_product_name
stec_replace_location
stec_replace_date
RSVP to Event
Event Info

Location

Schedule

Guests

Attendance

Forecast

Comments
stec_replace_description
stec_replace_title

Organizer of stec_replace_event

stec_replace_about
0

days

0

hours

0

minutes

0

seconds
Event expired
Event is in progress
Location
stec_replace_location
Get Directions
Could not find route!
Details
stec_replace_details
No schedule
stec_replace_date stec_replace_time
You are invited to this event!
Places left: 0
stec_replace_name
Weather data is currently not available for this location
Weather Report
Today stec_replace_today_date
stec_replace_current_summary_text
stec_replace_current_temp °stec_replace_current_temp_units
Wind stec_replace_current_wind stec_replace_current_wind_units stec_replace_current_wind_direction
Humidity stec_replace_current_humidity %
Feels like stec_replace_current_feels_like °stec_replace_current_temp_units
Forecast
stec_replace_date
stec_replace_icon_div
stec_replace_min / stec_replace_max °stec_replace_temp_units
stec_replace_5days
Powered by Forecast.io
Please remember:
All students should conduct a Daily Health Check. 

To support daily 

screening, a K-12 health-checker app has been developed for students and their families and can be found HERE.  

All staff should conduct the

WorkSafeBC Employee Daily Health Check

.

All visitors should conduct the WorkSafeBC Visitor Health Check upon entry to any of our facilities. 
Stay at home when sick.
Get a health assessment and/or COVID-19 test when sick. *New Provincial COVID-19 Testing Guidance: Anyone in the VCH region with cold, influenza or COVID-19-like symptoms, however mild, can now be assessed for and get a COVID-19 test. Contact your physician or nurse practitioner's office, or a local community collection centre to arrange for a test. Phone numbers and locations of collection centres can be found HERE or by calling 8-1-1. 

Perform hand and respiratory hygiene.

All middle and secondary students and K-12 staff are required to wear non-medical masks in all indoor areas, including when they are with their learning groups. The only exceptions are when: sitting or standing at their seat or workstation in a classroom; there is a barrier in place; or they are eating or drinking.
Parents, caregivers, and visitors: please wear a mask and practice physical distancing when on school grounds.
Thank you for following our health & safety protocols and keeping our community safe! 
Ready, Set, Go! It's Time to Get Set for Kindergarten!
This school year due to COVID-19 and physical distancing recommendations, students are encouraged to walk or cycle to school.
Walking and cycling to school has the double bonus of promoting children's health while reducing carbon emissions at the same time. For more information visit transporationchoices.ca or contact TraC at coasttrac@gmail.com.
Helpful links to get you started:
Family Literacy Week was full of amazing authors who shared their enthusiasm, their experiences, and their books with students up and down the Sunshine Coast. Through a partnership with The Festival of the Written Arts, we had 10 author visits, and every day hundreds of students were inspired to ask questions, read, reflect and write! Don't forget to submit student writing to the Coastal Voices Writer's Anthology by the Spring Break deadline! Recordings of the sessions can be found on the Engage Literacy site.
During Literacy Week, students across the district spent zoom time with First Nations authors. Secondary students met with Carey Newman and Kirstie Hudson, authors of Picking Up the Pieces which tells the story of "the Witness Blanket", a living work of art by Carey Newman meant to remember and honour people who attended residential school. Younger students enjoyed readings by Monique Gray Smith from her new book When We Are Kind as well as the favourite You Hold Me Up.
District Inclusion Support Team
We are so excited to introduce the District Inclusion Support Team!  
Picture: Karys Foley, Fiona James, Tricia Klassen, Paula Stroshein-Martinez, and Catherine Cooper (Left to Right)
Catherine Cooper is the team's Education Assistant.  She brings  a wealth of knowledge from her professional development around Autism Spectrum Disorder and from her volunteer experience in the community.  Catherine is excited to be part of this team and is looking forward to connecting and collaborating with all other teams in the district!  
Karys Foley is the team's Family Support Navigator. Expanding understanding and polishing approaches to behaviour through the lens of neuroscience and attachment theory are her passions.  Karys is really pleased to be in this new role with this new team!
Fiona James is the team's Inclusion Support teacher.  She is actively involved in the development of programs and plans which serve and support educators, students, parents and school goals.  Fiona is excited to be part of this dynamic and innovative team!
Trisha Klassen is the team's Education Assistant.  As a mom of a child who needs extensive supports, and as an EA in the district, Trisha has advocated for a more inclusive education model.  She is so grateful to have the opportunity to work with such a dynamic team whose focus is to help support our schools to make this happen.
Paula Stroshein-Martinez is the team's Inclusion Support teacher.  Paula is passionate about inclusive education and teaching to diversity and is a strong advocate for collaboration and connection.  She feels very fortunate and excited to be part of such an exceptional district initiative.
Our vision is that education will be an inclusive experience for all, where everyone has the opportunity to reach and celebrate their true potential.  Together, we hope to help clarify the concept of inclusive education as a paradigm shift, and help make the "how" of teaching to diversity easier and accessible to all.
A Tribute to the Sunshine Coast
This video created by Dolf Vermeulen Creative, sponsored by Rachel Dempster Real Estate, and narrated by Rita Poulsen, Indigenous Education Teacher at Kinnikinnick Elementary and Chatelech Secondary, expresses beautifully how grateful and honoured we are to live, learn, play and work on the unceded territories of the Skwxwú7mesh Nation and the shíshálh Nation.
Sunshine Coast Family of Community Schools​
Sunshine Coast Community Schools are committed to supporting and improving student learning and to strengthening individuals, families, and vibrant, healthy communities by providing quality programs, lifelong learning opportunities, and connections to school and community resources.
The Community Schools secure grants and external funding to provide valuable programs, services and activities in and out of school time to address nutritional, physical, social and emotional well-being.  Community Schools enhance the work of both School District 46 and our communities by offering site-specific community-based programs as well as regional programs that benefit the entire Sunshine Coast.
The Gibsons & District Public Library (GDPL)
The Gibsons & District Public Library (GDPL) is ready to support you. They have databases for research, learning a new language, learning to read, and for your next science project. They have ebooks and audiobooks for every reading level. With a GDPL library card you have access to all the library has to offer.
Listen and watch animated storybooks with TumbleBooks
Compare countries, learn about animals and browse popular topics with World Book Kids
Enjoy unlimited streaming access to film, television, and educational resources with Kanopy Kids
Learn a new language with Mango
Find full-text, peer-reviewed articles for your research with EBSCOHost
Access a world of eBooks and audiobooks through the library catalogue. If you can't find an eBook or audiobook you want, or are having to wait – let them know and they will do their best to get you a copy. Their doors are open Monday to Saturday 10:00 – 5:00 pm and their databases are 24/7!
The Sechelt Hospital Foundation has funded the creation of 3 ply masks which are then sewn by Julie Astalnok, Christine Ritz and their enthusiastic team for our students at the secondary and elementary schools. We are so thankful to our caring and supportive community!