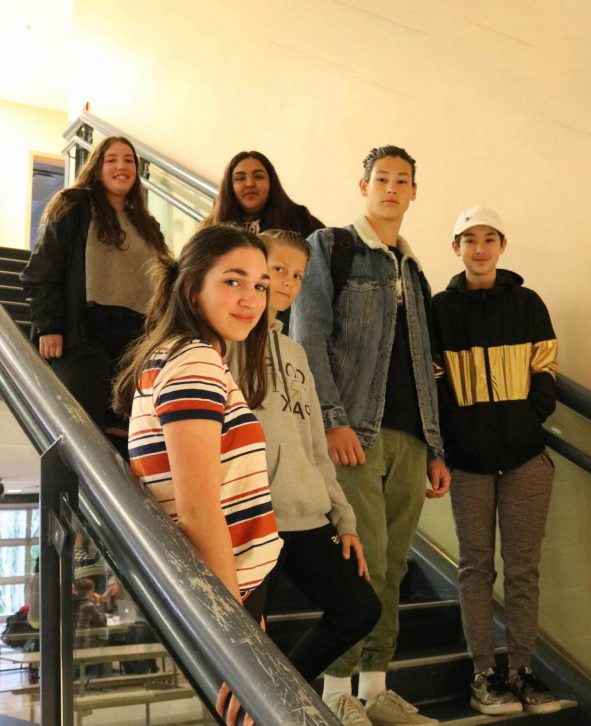 We are honoured to live, learn, play and work on the unceded territories of the Skwxwú7mesh Nation and the shíshálh Nation.
Vision: We are a community engaged in lifelong learning and educational excellence.

Mission: We support and inspire each student to experience joy and fulfillment in realizing their potential as a knowledgeable, confident, and contributing citizen in the global community.
Affirmation: The Board of School District 46 affirms its commitment to Indigenous Peoples and Reconciliation by building relationships and deepening understanding of Indigenous history, worldviews, and ways of knowing.

Approximately 3,300 students are enrolled in nine elementary and four secondary schools and supported by 600 dedicated staff.
The Sunshine Coast of British Columbia is located 30 kilometres northwest of Vancouver and stretches 96 kilometres along the picturesque shores of Georgia Strait. Reached by a 40-minute ferry ride across Howe Sound from Horseshoe Bay, the Coast offers a wide range of recreational and educational activities for students and their families.
Agenda

Month

Week

Day

Grid

Box Grid

Map
Agenda

Month

Week

Day

Grid

Box Grid

Map
-

-

-

-

-

-

-

-

-

-

-

-

-

-

-

-

-

-

-

-

-
-

-

-

-

-

-

-

-

-

-

-

-

-

-

-

-

-

-

-

-

-
You have no events for this day
You have no events for this month
You have no events for this month
stec_replace_image
stec_replace_icon
stec_replace_summary
stec_replace_desc_short
Expired
In Progress
stec_replace_location
stec_replace_timespan
Invited
stec_replace_guest_name
stec_replace_product_name
stec_replace_location
stec_replace_date
RSVP to Event
Event Info

Location

Schedule

Guests

Attendance

Forecast

Comments
stec_replace_description
stec_replace_title

Organizer of stec_replace_event

stec_replace_about
0

days

0

hours

0

minutes

0

seconds
Event expired
Event is in progress
Location
stec_replace_location
Get Directions
Could not find route!
Details
stec_replace_details
No schedule
stec_replace_date stec_replace_time
You are invited to this event!
Places left: 0
stec_replace_name
Weather data is currently not available for this location
Weather Report
Today stec_replace_today_date
stec_replace_current_summary_text
stec_replace_current_temp °stec_replace_current_temp_units
Wind stec_replace_current_wind stec_replace_current_wind_units stec_replace_current_wind_direction
Humidity stec_replace_current_humidity %
Feels like stec_replace_current_feels_like °stec_replace_current_temp_units
Forecast
stec_replace_date
stec_replace_icon_div
stec_replace_min / stec_replace_max °stec_replace_temp_units
stec_replace_5days
Powered by Forecast.io
Thank you for following our health & safety protocols.
There are a number of measures we can all take to ensure we continue to protect those around us.
Families are asked to monitor children daily for symptoms using the public health and Ministry of Education recommended and updated Student/Children's Daily Health Check* and not to send them to school if they are showing symptoms of illness. Adults/staff should use the COVID-19 Self-Assessment Tool for daily health checks. 
Anyone who is sick will not be allowed in school.
*The Student/Children's Daily Health Check is for COVID-19  only. Please also keep sick kids (cold or flu that is not COVID-19) home from school. Kids should still recover before coming back to school, just as they would pre-pandemic.
Any student who has key symptoms of COVID-19 OR has travelled outside Canada in the last 14 days OR was identified as a close contact of a confirmed case or outbreak must stay home, contact their care provider, and self-isolate.
If you have symptoms, please conduct a health assessment by contacting 8-1-1 or a primary care provider like a physician or nurse practitioner.
For testing on the Sunshine Coast, book an appointment at the Respiratory Assessment Clinic by phone or text at 604-740-1252, or by email at coastrespclinic@gmail.com. They are open seven days a week from 8:30 a.m. to 4:30 p.m, by appointment only. 
Please encourage your child to continue with their efforts to help stop the spread of COVID-19 by:
Practicing physical distancing
Washing their hands often with soap and water, or an alcohol-based hand sanitizer (containing at least 60% alcohol)
Coughing and sneezing into a tissue or the bend of their arm
Wearing a mask when needed
Avoiding touching their face
Not sharing food
Most importantly, staying at home if they have symptoms
Additional Resources:
This school year due to COVID-19 and physical distancing recommendations, students are encouraged to walk or cycle to school.
From September 28 to October 4th, Transportation Choices Sunshine Coast (TraC) will be organizing Active Transportation Week with fun school and community-based events that get people out of their cars and moving. Schools and families can participate by informally organizing walking school buses or bike trains, and kids can use sidewalk chalk to decorate their favourite routes to school. 
The District of Sechelt has committed to extra road sweeping and maintenance to ensure that road shoulders and bike lanes are in good shape for students cycling to local schools. SD46 is also piloting a map with several schools that identifies the safest routes to school which will be available later in the fall following consultations with local parents. 
Walking and cycling to school has the double bonus of promoting children's health while reducing carbon emissions at the same time. For more information visit www.transporationchoice.ca or contact TraC at coasttrac@gmail.com.
Helpful links to get you started:
Happy World Teachers' Day!
ON WORLD TEACHERS' DAY, WE WOULD LIKE TO ACKNOWLEDGE ALL OUR STAFF FOR THEIR SUPPORT IN MAKING SUNSHINE COAST SCHOOLS THE VERY BEST PLACE FOR AN EDUCATION FOR ALL OUR STUDENTS, EACH AND EVERY DAY. THANK YOU!
FROM THE SCHOOL TRUSTEES & SCHOOL BOARD OFFICE STAFF
Staff Snapshot of the Month
Peter McConnell teaching Science 9 outdoors at Chatelech Secondary. 
PPE (Personal Protective Equipment) used to be identified with clothing to wear while working in a trade, with chemicals, and often in the health care field. The Careers Grade 6 Big Idea Safe Environments Curriculum teaches that we depend on everyone to follow safety rules. PPE  is now expanded into our schools and a part of our daily life. Gently and consistently reminding each other of PPE expectations will keep us all safe. 
We are excited to have Shelley Moore working with our district again this year.  She led sessions on the September Pro D Day and will again for our November Pro D Day.  For November, she will be helping us deepen our learning about the Competency Based Individual Education Plans for students and review why it is important regardless of our role.  As we learn this new format which focuses on student voice and is strength based we reflect on how this document is to help support intellectual, personal and emotional proficiencies that all students need to develop in order to engage in deep life-long learning.
The Gibsons & District Public Library (GDPL)
The Gibsons & District Public Library (GDPL) is ready to support you as we launch into a new school year. They have databases for research, learning a new language, learning to read, and for your next science project. They have ebooks and audiobooks for every reading level. With a GDPL library card you have access to all the library has to offer.
Listen and watch animated storybooks with TumbleBooks
Compare countries, learn about animals and browse popular topics with World Book Kids
Enjoy unlimited streaming access to film, television, and educational resources with Kanopy Kids
Learn a new language with Mango
Find full-text, peer-reviewed articles for your research with EBSCOHost
Access a world of eBooks and audiobooks through the library catalogue. If you can't find an eBook or audiobook you want, or are having to wait – let them know and they will do their best to get you a copy. Their doors are open Monday to Saturday 10:00 – 5:00 pm and their databases are 24/7!
Sunshine Coast Family of Community Schools​
Sunshine Coast Community Schools are committed to supporting and improving student learning and to strengthening individuals, families, and vibrant, healthy communities by providing quality programs, lifelong learning opportunities, and connections to school and community resources.
The Community Schools secure grants and external funding to provide valuable programs, services and activities in and out of school time to address nutritional, physical, social and emotional well-being.  Community Schools enhance the work of both School District 46 and our communities by offering site-specific community-based programs as well as regional programs that benefit the entire Sunshine Coast.
Parents, Child Care Providers & Educators
Registration is now open to sign up for our Fall
Child Development & Parenting Classes!
The following 7 week classes will be offered virtually, over zoom, this Fall: 
Circle of Security (for those with children 0 – 6) Tuesday Nights beginning Sept. 15th at 8:00 pm
Circle of Security helps parents and caregivers make sense of children's behaviour and strengthen their relationships.  It focuses on building the foundation that supports children and families to thrive in these early, critical years of development.  
Positive Discipline (for those with children 2 & up) Thursday Nights beginning Sept. 17th at 8:00 pm
Positive Discipline offers parents & caregivers long term skills that will encourage children to think for themselves, become more responsible and have a greater respect for themselves and others. The teaching of Positive Discipline helps get to the core of children's behaviour &bring more joy into the home.
Parenting Circles (for those with children newborn to 6) Mondays & Wednesdays beginning Sept. 21st from 1– 2 pm
A support circle offered for anyone caring for children.  Join Sue & Sarah, Family Resource Navigators, to share, relate & strategize. 
Register On-Line: early-learning.sd46.bc.ca