Communicating Student Learning
Shifts in Communicating Student Learning
Students in grade 2/3 explain the shifts in Communicating Student Learning. Please take a look!  Thanks to Ms. Stevens and her class at Gibsons Elementary for helping us all in our learning! 
SD46 Communicating Student Learning Webinar Recording for Families
B.C. Reporting on Student Learning
Check out this comprehensive information package from the Ministry of Education and Child Care on Communicating Student Learning for Parents and Caregivers and view the simplified brochure below to learn more about reporting in BC!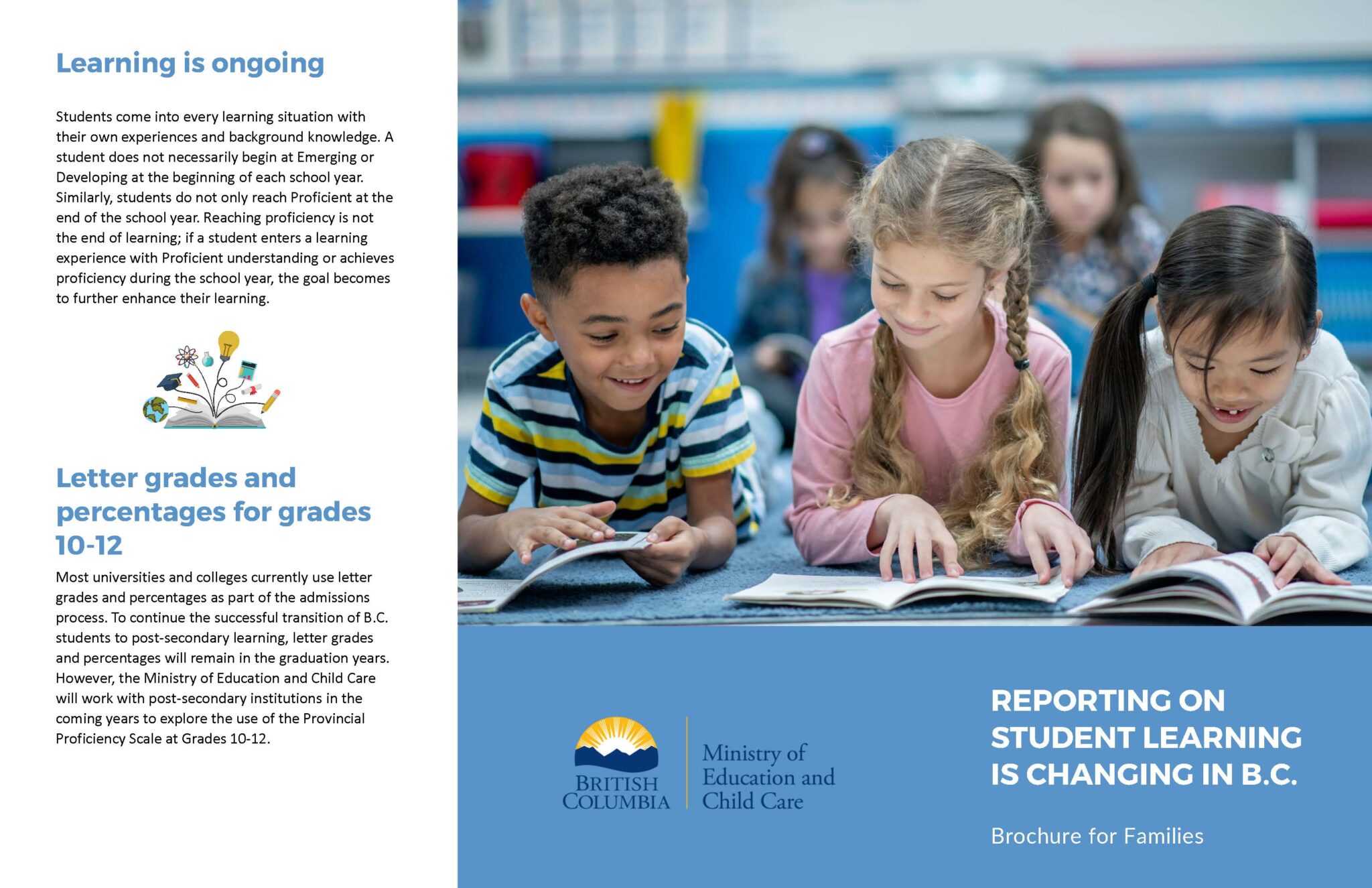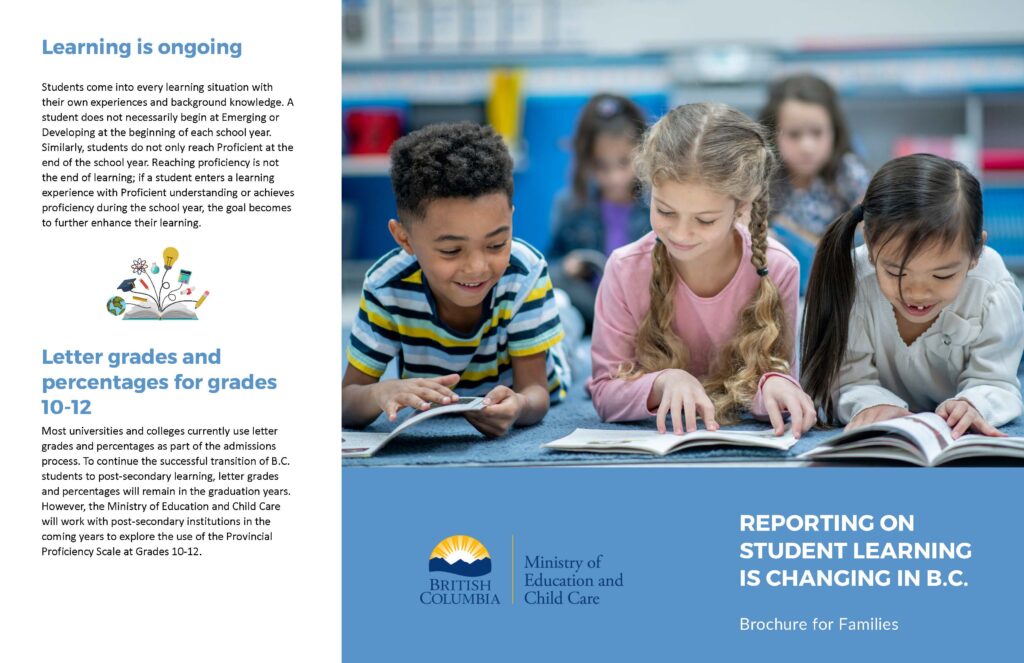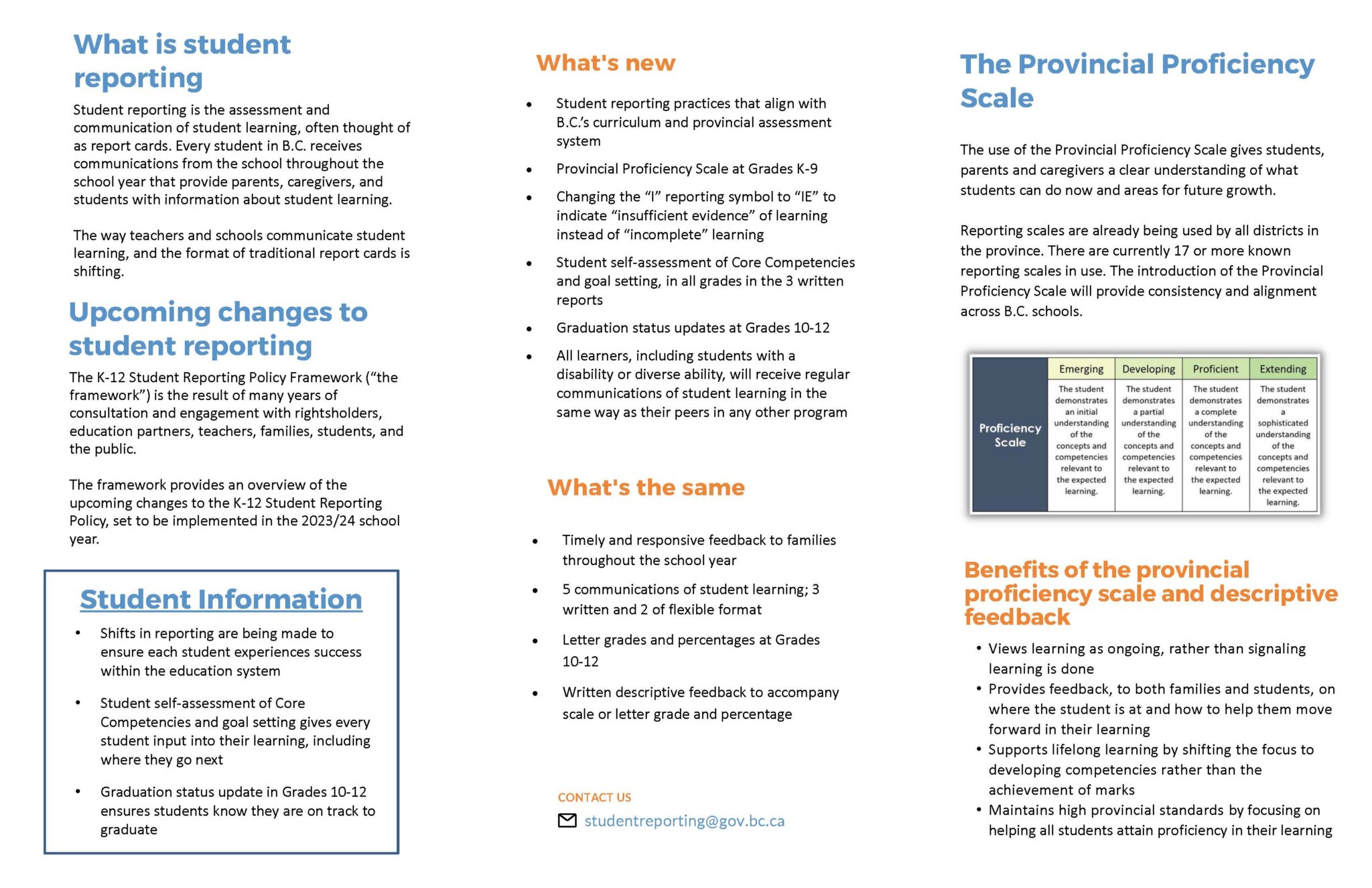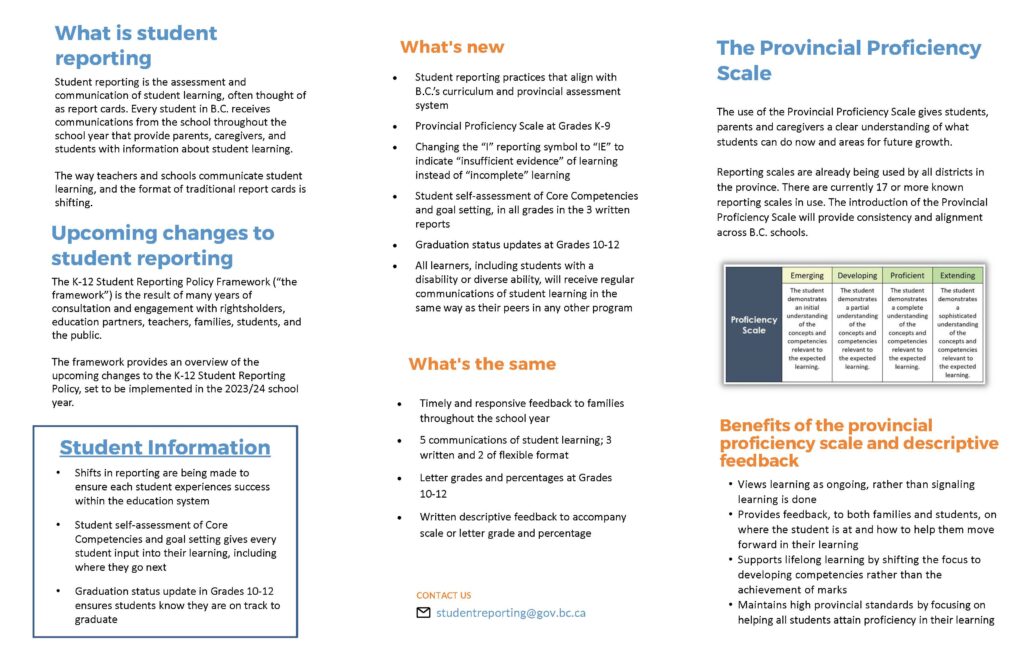 SD46 Communicating Student Learning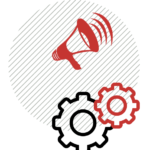 British Columbia is changing how students learn in school. This change will better prepare our students for the fast-paced, modern world that we live in. Building strong foundations in literacy and numeracy continues to be a focus, as well as developing students' core competencies, including their critical and creative thinking, communication, and personal and social skills.
To help students learn and grow, the province is changing the ways we assess student learning. This includes how we share results with parents so they can better support their children. This process is called Communicating Student Learning (CSL).
With these provincial updates in Communicating Student Learning families will receive the following:
Five 'Learning Updates' (2 written/2 flexible formats) & a 'Summary of Learning'

Student self-assessment of the Core Competencies. Student goal setting will also be included in the next school year.

Provincial Proficiency Scale and Descriptive Feedback in grades K-9. During this year of transition, some students in grades 4 – 9 may receive a grade.

Letter grades & percentages with descriptive feedback in grades 10-12

Graduation Status Updates in grades 10-12, to ensure students know they are on track to graduate.
Student learning in every area will be communicated at least twice over the course of the school year in the written Learning Updates or Summary of Learning.
The goal of Communicating Student Learning is to have parents, students and teachers engaged in on-going discussions about the student's learning. This is not limited to report cards. Teachers are using a variety of methods and tools to communicate with parents. This may include conferencing, paper reports, and/or digital platforms.
The communication that families receive will provide descriptive feedback, including information on strengths; areas for growth & opportunities for further development.
On the Sunshine Coast, families may receive information that describes their child's learning through:
A digital MyEducation ('MyEd') report, that will be printed and sent home at each reporting period this year.

A traditional printed report card that will be attached to the MyEd printed report.

An ePortfolio platform called 'Spaces' which our district will be using to replace FreshGrade. Parents receiving information using Spaces will continue to receive assessment posts throughout the year that describe their child's learning. Three 'checklists' that update or summarize the current proficiency of the student will be sent home through MyEd at traditional reporting periods.
The use of the Provincial Proficiency Scale gives students, parents and caregivers a clear understanding of what students can do now and areas for future growth. Many students in the district, including all primary students and all families who receive communication about learning through ePortfolios, have already been using this proficiency scale.


All parents will receive information about the current proficiency level of their child's learning using MyEd. This will only be new for elementary school reporting, as secondary schools have communicated learning using MyEd for a number of years.