Dear SD46 Learning Community,
As we approach the beginning of the school year we want to provide you with information that we all need for a smooth and positive start to the 2021/2022 school year. The health, safety, and well-being of students and staff continues to be our top priority.
We are looking forward to providing a full return to in-class instruction. We know that students' academic growth and emotional well-being is enhanced through face to face connection and activities. We will be moving forward in a mindful way so that our learning community feels safe and supported as we begin this school year.
---
START UP INFORMATION
FIRST DAY OF SCHOOL
For the first day of school, Tuesday, September 7th, 2021, schools will be in session for 2 hours and 15 minutes and will start approximately 2 hours and 15 minutes later than regular start time.
Please be sure your child has a snack with them.
The start and finish times (for that day only) will be as follows:
School: Revised START Time/Revised END Time
Cedar Grove Elementary: 10:45 AM/ 1:00 PM
Davis Bay Elementary: 10:55 AM/ 1:10 PM
Gibsons Elementary: 11:15 AM/ 1:30 PM
Halfmoon Bay Elementary: 10:35 AM/ 12:50 PM
Kinnikinnick Elementary: 10:45 AM/ 1:00 PM
Langdale Elementary: 10:50 AM/ 1:05 PM
Madeira Park Elementary: 11:15 AM/ 1:30 PM
Roberts Creek Elementary: 10:55 AM/ 1:10 PM
West Sechelt Elementary: 11:00 AM/ 1:15 PM
Chatelech Secondary: 11:15 AM/ 1:30 PM
Elphinstone Secondary: 11:00 AM/ 1:15 PM
Pender Harbour Secondary: 11:15 AM/ 1:30 PM
*Sunshine Coast Alternative School will have intake meetings the first week of school. All SCAS families and students will be contacted by phone with details.
FIRST DAY BUSSING
School bus services for this day will reflect the start and end time changes. All stop locations and routes will remain the same.
If you have registered your child(ren) for the school bus, please expect an email on August 30th regarding their bus schedule and bus stops for the school year. If you need to register for school bus service and have not done so already, please visit this LINK.
KINDERGARTEN STUDENTS
As in previous years, Kindergarten students will not attend school on Tuesday, September 7th and will begin their gradual entry schedule on Wednesday, September 8th. Kindergarten families will receive information from their school regarding the gradual entry schedule for Kindergarten students.
CALENDAR: YEAR AT A GLANCE AND BELL SCHEDULES
For the 2021-2022 bell schedules, please visit this LINK. For the year at a glance calendar or to subscribe to the district events calendar, please visit this LINK.
*School is not in session on September 30th in honour of the National Day for Truth and Reconciliation.
SCHOOL SUPPLIES
At School District 46, we do not ask for families to purchase or pay for school supplies. In order to ensure that all of our students have high quality learning tools and that we reduce financial challenges for all of our families, school supplies will be provided.
HEALTH AND SAFETY GUIDELINES
The updated provincial guidelines for K-12 settings cover many topics, including mask use, hand hygiene, vaccinations, regional responses to the pandemic, cleaning, ventilation, gatherings, extracurricular activities, meal programs and sports:
For more, visit the BC Ministry of Education Covid-19 Safe Schools and check out our SD46 2021 Health and Safety Guide info-graphic: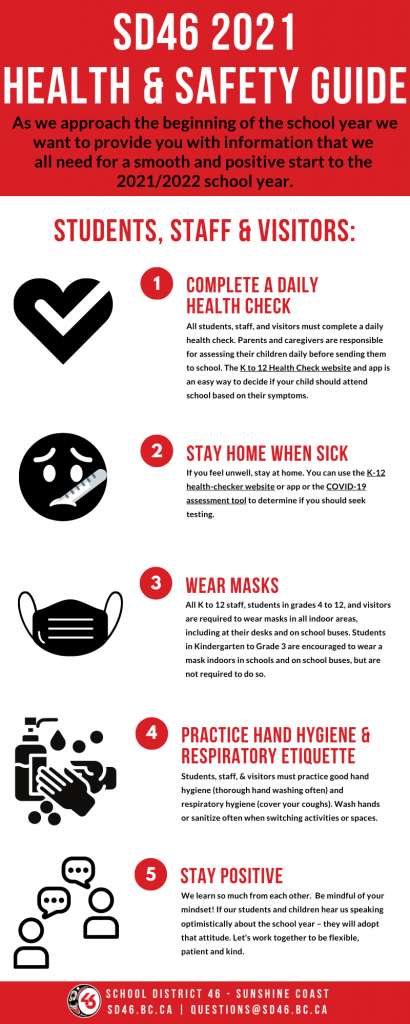 The District has worked hard over the summer to ensure a safe, healthy and supportive learning environment. In addition to mask wearing, COVID-19 safety measures such as preventing crowding, spreading out within available space, and frequent hand hygiene will be in place. SD46 continues to ensure heating, ventilation and air conditioning (HVAC) systems are designed, operated and maintained to Occupational Health and Safety and WorkSafeBC standards.
We also continue to:
Clean high touch surfaces frequently (once per day)
Post signage to manage traffic flow and prevent crowding
Require daily health checks for students, staff and visitors
Increase outdoor learning opportunities wherever possible
---
UPDATES TO NOTE FOR THE 2021/2022 SCHOOL YEAR
K to 12 staff, students in grades 4 to 12, and visitors are required to wear masks in all indoor areas and on school buses. Students in Kindergarten to Grade 3 are encouraged to wear a mask indoors in schools and on school buses, but are not required to do so.
Students will no longer be organized into cohorts or learning groups.
Sports, events and extra-curricular activities will resume, in alignment with Public Health Orders and in a gradual way.
Gatherings and events can occur; however, we will be opening up these opportunities slowly.
Visitors are welcome! To keep our spaces as safe as possible and to avoid crowding, we encourage visitors to only enter schools for pre-arranged meetings or activities. Visitors are required to follow health and safety guidelines and sign in at the office.
---
As this year progresses, we will keep our staff and community informed with any new guideline updates. Your questions and engagement improve our communication, so please don't hesitate to use our district email, questions@sd46.bc.ca, visit our SD46 Website and COVID-19 FAQ page and reach out to your principals and vice-principals for specifics to your school.
I am confident that we can all work together to ensure a safe and positive start to this school year. We should remind ourselves that we have done this before, that our schools are places of purpose and well-being for students and staff and that we can continue as a learning community to work together collaboratively in the best interests for all.
Warmly and with gratitude,
Kate Kerr
Superintendent of Schools
School District 46 – Sunshine Coast