NEWS RELEASE
For Immediate Release
2021SD4602
June 2, 2021
SD46 board of education appoints Kate Kerr as superintendent of schools
SUNSHINE COAST, BRITISH COLUMBIA–School District 46 (SD46) has named a new superintendent of schools.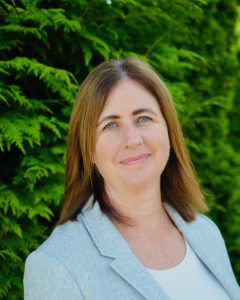 Following a nation-wide search, the Board of Education of School District 46 has appointed Kate Kerr as superintendent of schools beginning August 1, 2021. She replaces Patrick Bocking, who announced his retirement in January after ten years in the position.
Kate Kerr is currently the director of instruction for inclusive education for SD46. In the ten years that Ms. Kerr has worked for SD46, she has also held the roles of principal at Chatelech Secondary, principal at West Sechelt Elementary, vice-principal at Elphinstone Secondary and a student support services teacher at Elphinstone Secondary.  Before coming to the Sunshine Coast, she taught English, English Language Learning and was also a student support services teacher with the Langley School District.
Her passion and experience for inclusive education, instructional and systems driven leadership, curriculum implementation, social and emotional learning, community partnerships, collaboration and innovation will support our staff and students in having continued success in their learning journeys.
Ms. Kerr commented, "It has been my privilege and honour to work with all of the learning communities that make up our wonderful Sunshine Coast school district. I am excited to embrace my new role as superintendent of schools and look forward to continuing and strengthening my partnership with students, staff, parents, caregivers and community partners of Sunshine Coast schools."
"We look forward to welcoming Kate Kerr to her new position in the district, which will benefit from her established presence in our district and her visionary leadership," said Board chair, Amanda Amaral.
-30-
Media Contact:
Stephanie Murawsky 
Executive Assistant to the Superintendent | Communications Officer
T: (604) 886-4489 | C: (604) 989-7879 | E: communications@sd46.bc.ca